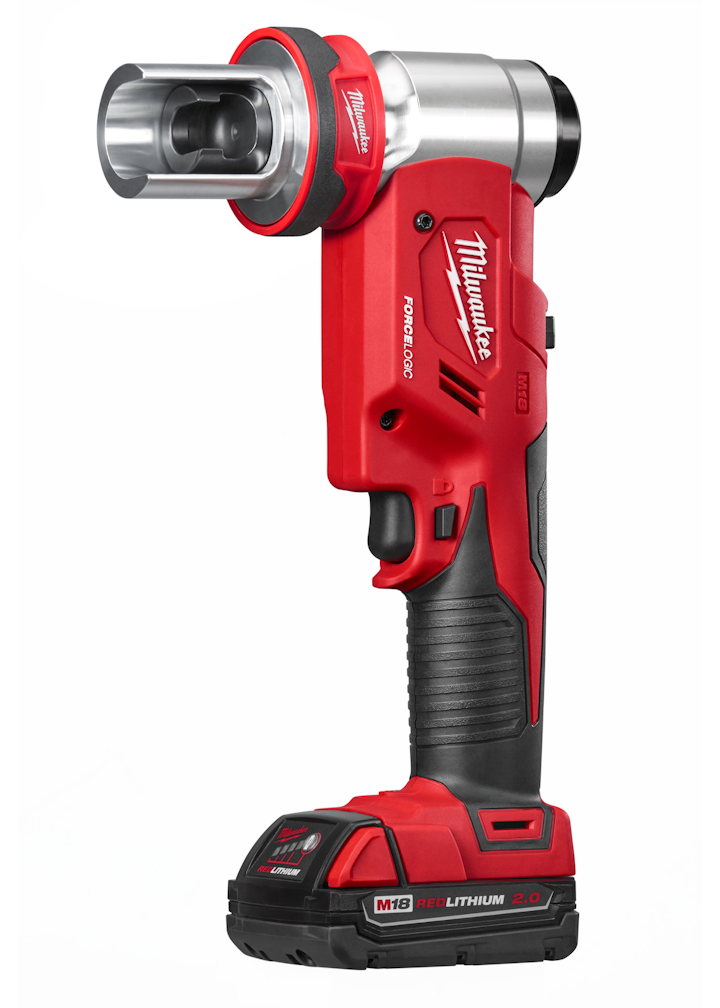 Utility equipment: Milwaukee® Knockouts were designed to make every step in the hole making process both faster and easier. The New M18 FORCE LOGIC 6T Knockout delivers unpreceded access and maneuverability for electricians. The M18 FORCE LOGIC 6T Knockout Tool, combined with Milwaukee's EXACT lineup of punches and dies, will redefine productivity for the user by reducing the tedious steps of hole-making and improving the speed of the process.
"When we introduced our Milwaukee® Knockout System in 2014 we brought a fresh perspective to hole-making, essentially redefining the entire process to promote better ease of use and productivity. The 10-Ton tool gave a wide-range of commercial and industrial users the speed, hole quality and capacity they needed. But because that range was so wide, it became increasingly important to provide an optimized compact solution for the breadth of applications that service and MRO professionals deal with which require maneuverability," said Corey Dickert, Director of Product Marketing for Milwaukee Tool. "The addition of the 6-Ton solution, which is 40% lighter than our 10-Ton offering, will provide these users with a reliable tool that they can easily navigate within these tight spaces and deliver the capacity to punch up to 4 in. holes in 14 gauge mild steel."
Traditionally, the most challenging step in the hole making process is setting up the punches and dies on the material as alignment lines on competitive units are very hard to see and the weight of the tool that is attached to them works against the user as they try to align.
Featuring the clearest alignment in mild and stainless steel, Milwaukee's EXACT punches and dies feature vivid red cross hairs and a clear view of the work surface to make alignment fast and easy. Once aligned, the Quick Connect Alignment System delivers easy set-up without the weight of the tool, and speeds up repetitive punching. Once set up, users just snap the tool onto the punch and die assembly, and pull the trigger to punch the hole.
In addition, Milwaukee is the only manufacturer whose standard punch and die sets cover both Mild and Stainless applications up to 4 in. This provides unparalleled value as the competition sells stainless steel sets separately at a premium that can cost up to three times more than sets for mild steel. The punches and dies are also designed for optimal slug removal and compatible with competitive knockout tools*.
Powered by Milwaukee REDLITHIUM batteries, the new M18 FORCE LOGIC 6T Knockout Tool is powerful enough to punches up to 4" Holes in 14 gauge Mild Steel. Its compact, right angle design delivers the best clearance in tight spaces. It is also compatible will all major brands of punches and dies.**
The entire Milwaukee® Knockout System is a true testament to Milwaukee's focus on providing the user with game-changing technology on one battery platform.
*Dies sizes 2-1/2"-4" must be used with adapter (model number 49-16-2684) for competitive adaptability.
**Dies sizes 2-1/2" ­ 4" must be used with adapter (model number 49-16-2685) for competitive compatibility.
About Milwaukee Tool
Since the company began in 1924, Milwaukee Tool has led the industry in both durability and performance by providing the best in professional, heavy duty tools and accessories. With an unwavering commitment to the trades, Milwaukee® continues to lead with a focus on providing innovative, trade-specific solutions. Whether it is through their leadership in LITHIUM-ION technology, as seen in the M12, M18 & M28 Systems, time-saving accessories or innovation new Hand Tool and Test Instrument product lines, Milwaukee is dedicated to delivering a steady stream of advanced solutions for the trades that offer increased productivity and unmatched durability. Milwaukee Tool is a Brookfield, Wisconsin-based subsidiary of Techtronic Industries Co. Ltd. (TTI) (HKEx stock code: 669, ADR symbol: TTNDY).
For more information about Milwaukee Toolor other products, click here to go to Utility Products' Buyers Guide.