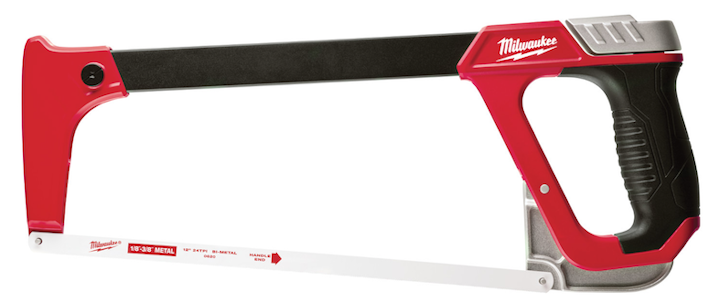 Utility equipment: Milwaukee Tool continues to expand their Hand Tool offering with the addition of a 12" High-Tension Hacksaw (48-22-0050). Up to 4X higher tension and 5X more durable than other leading hacksaws on the market, the new hacksaw was designed to be a reliable solution for plumbers and electricians who need to make fast, accurate cuts.
Two key features are most important for hacksaw users: Durability and high tension. To address these needs, Milwaukee® designed its new hacksaw with a reinforced metal frame, making it the most durable hacksaw in the industry today. A high-leverage tension knob at the top of the hacksaw's frame allows the user to easily tighten the blade to the highest tension needed.
For added utility, the hacksaw features 6-blade storage capacity as well as a 45° blade position for a better angle on flush cuts.
With the introduction of the 12" Hacksaw, Milwaukee Tool demonstrates its commitment to delivering hand tool solutions that increase productivity and are built to withstand even the toughest jobsites. Available in February 2016, the new 12" Hacksaw joins Milwaukee's current lineup of compact hack saws, jab saws and PVC/ABS saws.
About Milwaukee Tool
Since the company began in 1924, Milwaukee Tool has led the industry in both durability and performance by providing the best in professional, heavy-duty tools and accessories. With an unwavering commitment to the trades, Milwaukee continues to lead with a focus on providing innovative, trade-specific solutions. Whether it is through their leadership in LITHIUM-ION technology, as seen in the M12™, M18™ & M28™ Systems, time-saving accessories or innovative hand tool products, Milwaukee is dedicated to delivering a steady stream of advanced solutions for the trades that offer increased productivity and unmatched durability. Milwaukee Tool is a Brookfield, Wisconsin-based subsidiary of Techtronic Industries Co. Ltd. (TTI) (HKEx stock code: 669, ADR symbol: TTNDY).
For more information about Milwaukee Toolor other products, click here to go to Utility Products' Buyers Guide.