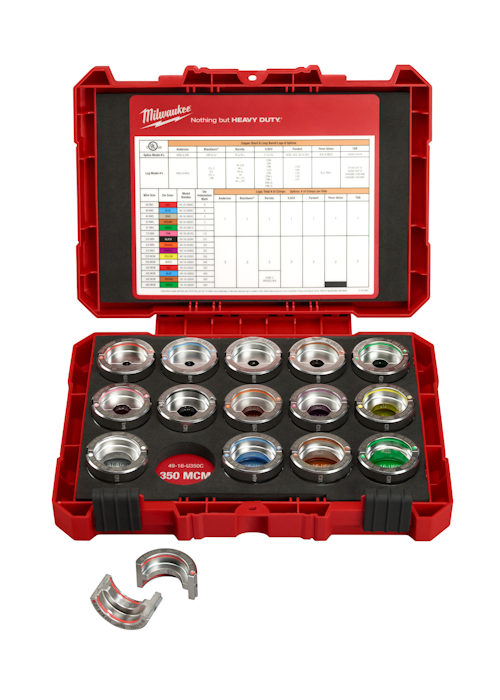 Utility supplies: In conjunction with the launch of its new M18 FORCE LOGIC 600 MCM Crimper, Milwaukee Tool has unveiled its newest productivity enhancing solution with the introduction of the Copper and Dual Rated Dies.
"Current dies on the market are hard to tell apart. During our jobsite visits we spoke with many users who have to rely upon their own self-made systems in order to differentiate colors ­ including anything from colored tape to detailed stickers in the slots. Oftentimes these users are also sharing their dies, and scrambling to determine which die is missing or being used can be a productivity-killer," said Paige Bovard, Sr. Product Manager for Milwaukee Tool. "We're excited to offer our users the ability to say goodbye to their tedious die systems by providing them kits that simplify the die selection process."
All dies feature colored bands and wire size markings, so users can quickly and easily choose the correct die for the application at hand. When a die is out of the case, the colored empty slot gives details to help identify which die is missing ­ a time-saver when determining what dies are available.
Previously when inspectors needed to tell if a UL Classified connection was made, they'd need to consult charts to determine if the proper die was used. To eliminate downtime, all Milwaukee® dies imprint the connector size onto the connector for peace-of-mind and unmatched productivity. The 600 MCM Crimper with Milwaukee U Style Dies are UL Classified with most Anderson, Blackburn®, Burndy, ILSCO, Panduit, Penn-Union and T&B connectors #8 ­ 600MCM Cu and #8 ­ 350 MCM Dual Rated Connectors**.
Available in February 2016, the new die offerings confirm Milwaukee's unrelenting commitment to providing solutions that solve key industry frustrations, without sacrificing jobsite productivity.
*600 MCM Cu / 350 MCM Al (Dual Rated)
** Please refer to full UL Classification Matrix on www.MilwaukeeTool.com/Crimpers
About Milwaukee Tool
Since the company began in 1924, Milwaukee Tool has led the industry in both durability and performance by providing the best in professional, heavy-duty tools and accessories. With an unwavering commitment to the trades, Milwaukee continues to lead with a focus on providing innovative, trade-specific solutions. Whether it is through their leadership in LITHIUM-ION technology, as seen in the M12, M18 and M28 Systems, time-saving accessories or innovative hand tool products, Milwaukee is dedicated to delivering a steady stream of advanced solutions for the trades that offer increased productivity and unmatched durability. Milwaukee Tool is a Brookfield, Wisconsin-based subsidiary of Techtronic Industries Co. Ltd. (TTI) (HKEx stock code: 669, ADR symbol: TTNDY).
For more information about Milwaukee Toolor other products, click here to go to Utility Products' Buyers Guide.