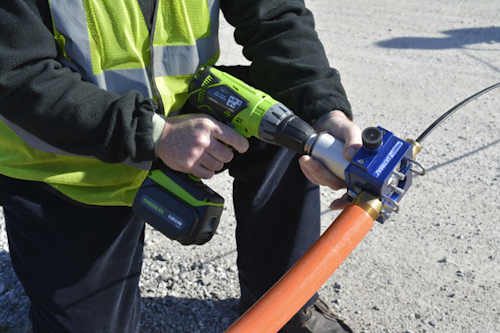 Utility equipment: Greenlee and Sherman+Reilly, Textron Inc. companies, have introduced the ULTIMAZ Point-to-Point (P2P) Hybrid Fiber Drop Installation system. The ULTIMAZ P2P is a user-friendly solution used to install short sections of cables from 50 ft. to 1,200 ft. with ease.
The ULTIMAZ P2P offers a stress free installation cable jetting method that reduces the rate of damaged fiber optic cable. Installation speeds up to 600FPM allow a six times faster rate compared to hand pulling. This installation device comes with a handheld or stand-mounted hybrid design that uses this pushing or "jetting method" that combines a low strain pushing force with a high speed air stream along the microcable surface for round or flat drop cables with outer diameters of 3.0mm to 10.5mm.
For more information about Greenlee or other products, click here to go to Utility Products' Buyers Guide.