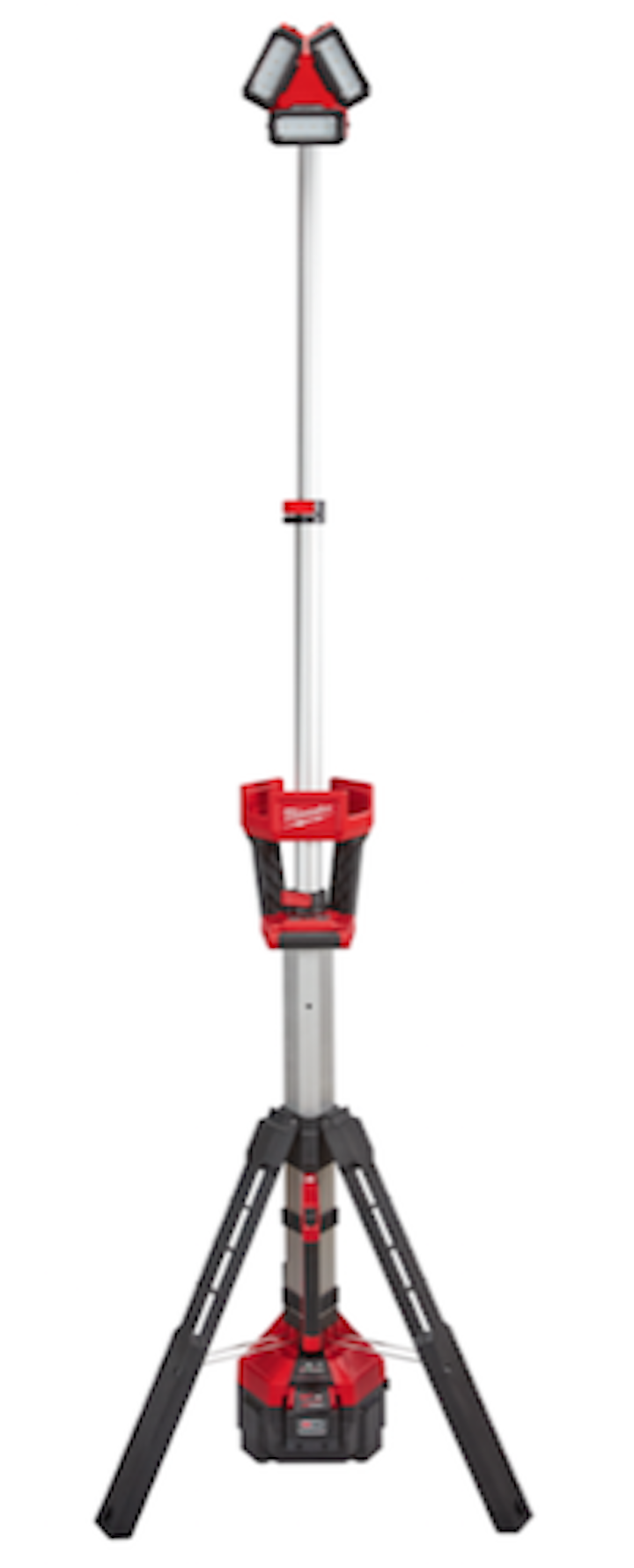 Work light: Milwaukee Tool continues to expand their Lighting Solutions with the M18 Rocket™ LED Tower Light/Charger. With the ability to be set up in 5 seconds, provide 3,000 lumens of high-output light for both task and area lighting, and charge any M18™ battery through a built-in M18™ Charger, the M18 Rocket™ Tower Light/Charger is a breakthrough in productivity.
"Our users need task and area lighting that can be easily set up, provide high output light in numerous directions for precise light placement and is built to thrive in whatever environment they're in. After spending countless hours on the jobsite talking to these users, we've developed a new tower light that can solve all of the due frustration users have with halogen stand lights," said Jason Isaacs, Product Manager for Milwaukee Tool.
Featuring a new-to-world tri-fold head design, the M18 Rocket™ Tower Light/Charger is capable of delivering 3,000 lumens of multi-directional light through the use of 3 independently-rotating, adjustable light heads. With the ability to maneuver these light heads in multiple orientations, users can direct light to wherever it's needed. With three output modes for optimizing brightness, it is 50% brighter and has a run-time of up to 17 hours – running significantly cooler than halogen. The Tower Light features TRUEVIEW™ Technology, which utilizes the most advanced LED technology and optical designs to deliver a consistent beam, optimized color temperature, and true representation of colors and detail leading to a more productive work area.
Capable of being set up in 5-seconds, the new Tower Light's rotating and pivoting light head can be extended from 4-7' to light overhead work or minimize shadows when casting light downward. Its portability provides increased efficiency on the jobsite, as it can collapse down to 40" for easy transport and storage.
For increased productivity, the Tower Light has an AC/DC input with an integrated M18™ Charger. When plugged in, this charger can charge all M18™ Battery Packs so users can quickly get back to the job at hand and have a battery ready to go when they need it.
Its impact-resistant, reinforced legs and low center of gravity provide a stable base to protect against falling over. A durable polycarbonate lens design can survive harsh jobsite use, delivers superior impact durability, and the light heads nest into a protective shroud. Additionally, with an IPX4 rating, the Tower Light is water resistant. Similar to all of Milwaukee's high output LED lights, the new Tower Light also features a limited lifetime LED warranty, and a 5-year warranty on the product.
Powered by Milwaukee RED LITHIUM batteries*, the new M18 Rocket™ LED Tower Light/Charger is compatible with the M18™ cordless system, now offering more than 100 power tool products. Committed to its focus on the user and investment in game-changing technology, Milwaukee® will continue to design and develop lighting solutions with the ability to adapt, perform and survive the demands of professional use.
*batteries sold separately.
Specifications
M18 Rocket™ LED Tower Light/Charger (2135-21HD)
• 3000 Lumens on high (4 hours of runtime)
• 1700 Lumens on Medium (8.5 hours of runtime)
• 900 Lumens on Low (17 hours of runtime)
• 18 lbs.
Includes M18 Rocket™ LED Tower Light/Charger, M18™ REDLITHIUM™ 9.0 Extended Capacity Battery Pack, and Carry Bag.
*Also available as a bare tool (2135-20)
About Milwaukee Tool
Since the company began in 1924, Milwaukee Tool has led the industry in both durability and performance by providing the best in professional, heavy-duty tools and accessories. With an unwavering commitment to the trades, Milwaukee continues to lead with a focus on providing innovative, trade-specific solutions. Whether it is through their leadership in LITHIUM-ION technology, as seen in the M12™, M18™ & M28™ Systems, time-saving accessories or innovative hand tool products, Milwaukee is dedicated to delivering a steady stream of advanced solutions for the trades that offer increased productivity and unmatched durability. Milwaukee Tool is a Brookfield, Wisconsin-based subsidiary of Techtronic Industries Co. Ltd.
For more information about Milwaukee Tool or other products, click here to go to Utility Products' Buyers' Guide.