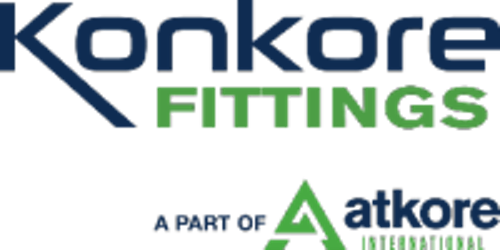 Utility supplies: Atkore International, a manufacturer of electrical products, announces its new Konkore Fittings line, featuring a huge breadth of fittings, fast response, and quick delivery times. With more than 1500 SKUs and numerous proprietary labor saving fittings, Konkore Fittings is the one-stop shop for all the fittings needed for multiple installation methods.
The extensive Konkore Fittings line includes over 1500 SKUs in a well-rounded range of product categories, including steel EMT fittings, steel rigid fittings, and steel Liquidtight and flex fittings, as well as cord grips, steel and aluminum conduit bodies and covers, and rigid FS and FD boxes and covers. Also available is the brand new Universal Super Fitting® 3-piece coupling product range, which connects GRC/IMC and EMT (2-1/2" to 4") and eliminates filed threading to speed installation, while saving labor and space on the job site.
"With our new Konkore Fittings line, customers can get all their fittings in one convenient location," said Rodney Long, Atkore Raceway Senior Vice President of Sales. "Our tagline is Konkore connects your Kore business, and we honor that every day by offering exceptional quality, service and value. No matter what your needs, from special job quotes, to product inquiries, to shipping information, our Konkore team will give you a fast and courteous response."
About Atkore International:
Atkore International is a leading manufacturer of Electrical Raceway products primarily for the non-residential construction and renovation markets and Mechanical Products & Solutions for the construction and industrial markets. The company manufactures a broad range of end-to-end integrated products and solutions that are critical to its customers' businesses and employs approximately 3,100 people at 52 manufacturing and distribution facilities worldwide. The company is headquartered in Harvey, Illinois.
For more information about Atkore or other products, click here to go to Utility Products' Buyers Guide.