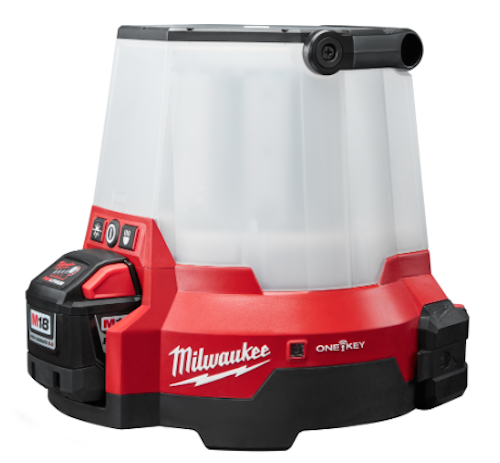 Work light: Milwaukee Tool continues to revolutionize jobsite lighting with the M18 RADIUS™ LED Compact Site Light w/ ONE-KEY™*. Building off the launch of the industry's first task, area, and overhead light this summer, Milwaukee has created a lighting solution that is fully integrated with ONE-KEY™. Users will experience a wide array of customization options, as well as the ability to track and manage the light through the app.
"Lighting is an essential tool on nearly every jobsite, but often the setup time required can be a productivity-killer," said Jason Isaacs, Product Manager for Milwaukee Tool. "The ONE-KEY™ functionality will take our users' jobsite lighting experience to the next level, allowing them to change brightness, light direction, and program automatic schedules without manually readjusting the light. This is particularly important when the light is in hard-to-reach or remote areas – ultimately saving valuable time while on the job."
Through ONE-KEY™, users will be able to customize, track, and manage their new Site Light. Unlimited Tool Customization allows users to use their phone as a remote control for the light. With the ability to completely control its operation from their phone, users simply set the light and won't need to access it again until moving it to the next job. From a 50ft range, users can take advantage of three different fully customizable adjustments:
• Optimize Brightness: Optimize the light to provide the right output for the job at hand, and check the remaining battery charge to adjust for conserved runtime.
• Adjust Light Direction: For the most complete control over light positioning, adjust the light's direction left or right 180 degrees with Electronic Bay Switches that can be adjusted through the app.
• Program Automatic Schedules: For increased productivity, the Site Light has an AC/DC input and output. When the light is running on AC power, set it to run for a specific amount of time (30, 60, or 90 minutes, or a custom length). Alternatively, program specific start and end times and build a schedule to accommodate the hours the light is needed most.
Once a command is made, the light keeps memory of that setting until the user makes a new change.
The ONE-KEY™ Integrated Tool Tracking functionality will make tracking the Site Light as easy as pulling out a phone, allowing users to identify where and when their light was last seen. Records and locations will update when any device with the ONE-KEY™ app comes within 100ft of the Site Light, allowing the user to quickly pinpoint missing lights. With users will also have a central place to take inventory of their Site Light and all other tools and equipment, and keep detailed records of all inventory to easily build a budget and manage spend.
Available in October 2016, the new M18 RADIUS™ LED Compact Site Light w/ONE-KEY™ is part of the industry's largest LED work light family of products designed to adapt, perform, and survive the demands of professional use. With a focus on delivering game-changing solutions inspired by their users, Milwaukee will continue to invest in the ONE-KEY™ platform. As the program's capabilities evolve, Milwaukee will be able to deliver more features to a product even after it's purchased – translating to invaluable productivity gains.
*ONE-KEY™ is the first digital platform for tools and equipment. By integrating industry-leading tool electronics with a custom-built cloud based program, ONE-KEY™ provides a new level of control and access to information that revolutionizes the way work gets done. The ability to customize, track, and manage through ONE-KEY™ fundamentally changes the way users interact with their tools.
**batteries sold separately.
Specifications
M18 RADIUS™ LED Compact Site Light w/ONE-KEY™ (2146-20)
4400 Lumens on high (2 hours of runtime)
2100 Lumens on Medium (4 hours of runtime)
1000 Lumens on Low (8 hours of runtime)
10.7 lbs.
IP54 rated
*Based off use with an XC5.0 Battery Pack
About Milwaukee Tool
Since the company began in 1924, Milwaukee Tool has led the industry in both durability and performance by providing the best in professional, heavy-duty tools and accessories. With an unwavering commitment to the trades, Milwaukee continues to lead with a focus on providing innovative, trade-specific solutions. Whether it is through their leadership in LITHIUM-ION technology, as seen in the M12™, M18™ & M28™ Systems, time-saving accessories or innovative hand tool products, Milwaukee is dedicated to delivering a steady stream of advanced solutions for the trades that offer increased productivity and unmatched durability. Milwaukee Tool is a Brookfield, Wisconsin-based subsidiary of Techtronic Industries Co. Ltd. (TTI).
For more information about Milwaukee Tool or other products, click here to go to Utility Products' Buyers Guide.