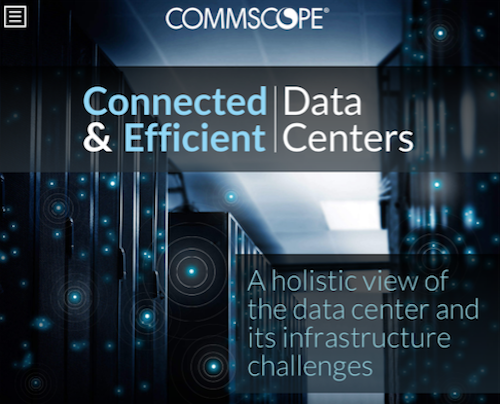 Energy management: CommScope, a provider of communications network infrastructure solutions, has introduced a go-to resource for planning and designing data centers around the world. The Connected and Efficient Data Center eBook – available for download now – includes tips and insights to demystify technology and untangle the complexities in building data centers.

"There are so many decisions to make when building and designing a data center, from the physical layer infrastructure to the network applications themselves," said Ernie Pickens, senior vice president of enterprise provider solutions at CommScope. "Stored data is growing by 40 percent every year, and data centers need to meet the demand now and in the future. Our eBook helps navigate every step in the data center evolution process."

The eBook covers 10 subjects, providing a holistic view of data center design and challenges along the way. Chapter topics include:
· Data center standards: Discussion around the most recent application and cabling standards
· Multitenant data centers (MTDC): Service capabilities and infrastructure to look for in a multitenant data center
· Higher-speed migration: The importance of fiber infrastructure and being prepared to migrate to higher speeds as bandwidth grows. It also discusses the impact of new technologies like shortwave wavelength division multiplexing, wideband multimode fiber and PAM-4 on fiber migration.
· Data center architecture: Ensuring that the physical layer is optimized around your data center architecture.
· Multi-source agreements: The latest updates on new and emerging optics for the data center
· Fiber selection: designing the data center infrastructure with the correct fiber type to match design, grow and budget objectives
· Optical distribution frames: Options for managing fiber connectivity in an ultra-dense, fiber rich data center
· Fiber TAPs: Designing your data center for real time application monitoring
· Data center infrastructure management (DCIM): the holistic approach to managing the entire data center and preparing for future demand
· Automated infrastructure management (AIM): comprehensive end-to-end physical layer management

eBook chapters are based on decades of experience in the field and innovation in the lab. Complete a brief registration to access The Connected and Efficient Data Center eBook, which is available for free on PCs, or through an app on tablets or smartphones.

"Driving the most value out of the data center is critical; efficiency must be maximized to ensure assets are used to their fullest potential," said Pickens. "Our eBook will help managers accelerate time to market and make best use of opportunities for their own connected and efficient data center."
About CommScope:
CommScope (NASDAQ: COMM) helps companies around the world design, build and manage their wired and wireless networks. Our vast portfolio of network infrastructure includes some of the world's most robust and innovative wireless and fiber optic solutions. Our talented and experienced global team is driven to help customers increase bandwidth; maximize existing capacity; improve network performance and availability; increase energy efficiency; and simplify technology migration. You will find our solutions in the largest buildings, venues and outdoor spaces; in data centers and buildings of all shapes, sizes and complexity; at wireless cell sites; in telecom central offices and cable headends; in FTTx deployments; and in airports, trains, and tunnels. Vital networks around the world run on CommScope solutions.
For more information about CommScope or other products, click here to go to Utility Products' Buyers Guide.