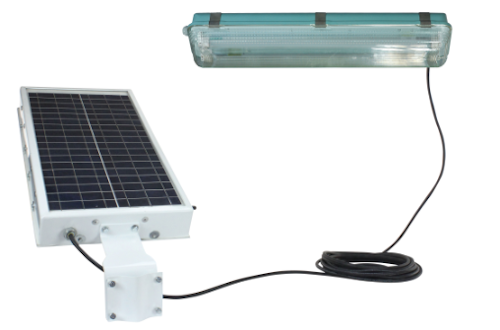 Work lights: Larson Electronics, a manufacturer and distributor of high grade lighting equipment, has announced the release of a 2-foot, two-lamp solar powered vapor-proof LED light fixture combined with a day/night sensor and a motion sensor to maximize battery life. The GVP-24-2L-LED-LV-SOL-MS solar powered LED light fixture is an ideal lighting solution for remote areas and standalone applications where connection to external power is either impractical or unavailable.
This 2-foot, two-lamp fixture is a powerful yet compact lighting solution that will improve overall illumination levels and light quality while reducing operating costs. This LED light is powered by two 10aH sealed lead acid batteries that are recharged by a 30 watt solar panel. The LED bulbs used in the fixture are our new second generation LED T series 14 watt T17 style lamps which produce 15 percent more light than standard T8 bulbs. The fixture operates on 12V DC for use with the low voltage solar panel and includes 10 feet of SOOW cable.
The solar powered LED light fixture is equipped with a day/night sensor as well as a motion sensor to maximize the battery life. The motion sensor switches the light on when it detects movement and will keep the fixture illuminated for up to 20 minutes. The fixture should be mounted between 10 and 20 feet for optimum performance of the motion sensor. The light may also be configured to work on the day/night sensor. When ambient light levels drop below 30 lux, typically at sunset, the fixture will automatically turn on. The fixture will operate for 10 hours when the battery is fully charged. Charging time for the battery bank is 5 hours when the panel is exposed to direct sunlight. As with all solar equipment, charging time is affected by the amount of available ambient light. So when the ambient light levels drop below a certain level, the unit will not recharge as quickly.
"By eliminating the ballast box that is normally associated with fluorescent fixtures, we have reduced the overall weight and created a slimmer profile," said Rob Bresnahan, CEO of Larson Electronics. "LED technology combined with solar panel operation significantly reduces operating costs of this fixture."
Larson Electronics carries an extensive line of LED light towers, portable power distributions, explosion proof lights for hazardous locations, portable work lights and industrial grade LED area lights.
For more information about Larson Electronics or other products, click here to go to Utility Products' Buyers Guide.