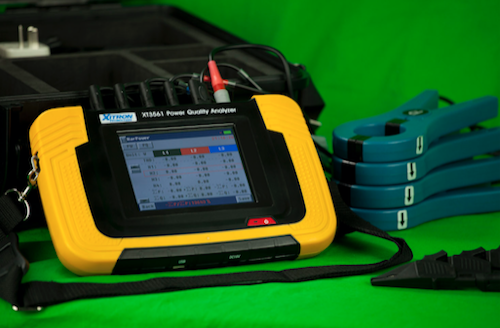 Energy management: XiTRON Technologies, producer of precision test and measurement equipment for industrial, military and aerospace applications, introduces the XT3561 portable, three-phase, power quality analyzer. The easy-to-use handheld meter provides a full range of power, energy and power quality recording and analysis capabilities typically found in competitive units designed for commercial applications. In addition, the XT3561 offers the unique capability of field configurability for use in military and aerospace applications with power line frequencies of 400 Hz or higher – up to 1 kHz.
The XT3561 offers the industry an economical alternative for measurement and recording of voltage, current, frequency, harmonics, three-phase unbalance, phase rotation, dips and swells, and flicker. It has a voltage input range of 10–700 Vac with current ranges from 5A to 5000A. The instrument features a large (5.7 in.), color, touch-screen display. Its internal memory has the capacity to conduct and record power and energy studies of up to 960 hours.
"Typical portable power quality analyzers on the market only cover the 40Hz to 70Hz power range without special modifications. Our XT3561 model is equally at home in this commercial frequency range, but it can also be field-configured to handle higher frequency military and aerospace applications," said Alan Armstrong, XiTRON Technologies' Director of Operations. "The XT3561 analyzer provides users with a portable, simple-to-use solution for conducting measurements in Mil-Std-704F, 400 Hz and 800 Hz power systems."
Typical applications for the XT3561 include troubleshooting, predictive maintenance, power quality studies, energy surveys and load analysis.
About XiTRON Technologies
XiTRON Technologies, founded in 1990, is a premier source of precision power testing and measurement equipment for industrial manufacturing and consumer electronics. Using the latest digital signal processing techniques, XiTRON's sophisticated technology gives companies the edge in design verification and product manufacturability. XiTRON is ISO-9001:2008 certified. Products are also typically CE marked for sale to the European Union (EU).
For more information about XiTRON Technologies or other products, click here to go to Utility Products' Buyers Guide.