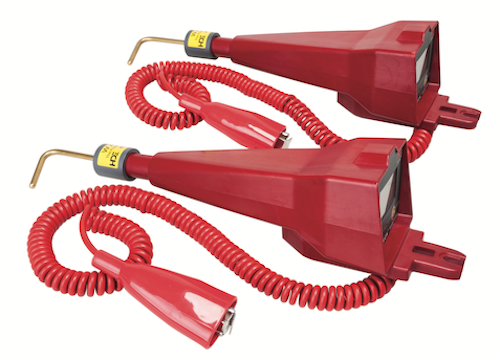 Voltage meter: HD Electric Company, a Textron Inc. company, continues to drive innovation with the new DoubleVision™ Dual Display Phasing Voltmeter. The DDPM-40 is a compact, high accuracy wireless voltmeter and phasing set with capacitive test point mode and peak hold capability. The DDPM-40 will show the leading or lagging phase as well as the phase angle during wireless phasing operations.
The DDPM-40 measures voltage from 5V to 43kV and can be used in both overhead and underground applications. The DDPM-40 is accurate and repeatable to within 1 percent. The voltage is displayed on the two large bright LED displays that are synchronized wirelessly to make voltage measurements and phase identification easy, especially when working over a distance across switches. The DDPM-40 has a single button interface that controls all modes including: line to line measurements; line to ground measurements; capacitive test point; and real time & peak hold reporting.

The wireless phasing voltmeter is lightweight and its weather-resistant construction is ideal for use in tight work environments with minimum approach distances or with storm duty during disaster relief. There are several probes and accessories that can be added to enhance your work effort. For more information, visit HDElectricCompany.com or HDE's Innovations site hdeinnovations.com.

About HD Electric Company
For over eighty years, HD Electric Company, a Textron Company, has provided products serving the diverse needs of the electrical power industry and its related industries worldwide. HDE's continuous improvement and innovation in the areas of controlling, testing, measuring and recording of electric power has resulted in the development of leading edge products designed to help deliver electric power to customers safely and efficiently. More information is available at www.HDElectricCompany.com.

Textron Inc.
Textron Inc. is a multi-industry company that leverages its global network of aircraft, defense, industrial, and finance businesses to provide customers with innovative solutions and services. Textron is known around the world for its powerful brands such as Bell Helicopter, Cessna, Beechcraft, Hawker, Jacobsen, Kautex, Lycoming, E-Z-GO, Greenlee, Bad Boy Off Road, Textron Systems and TRU Simulation + Training. For more information, visit: www.textron.com.
For more information about HD Electric, Textron, or other products, click here to go to Utility Products' Buyers Guide.