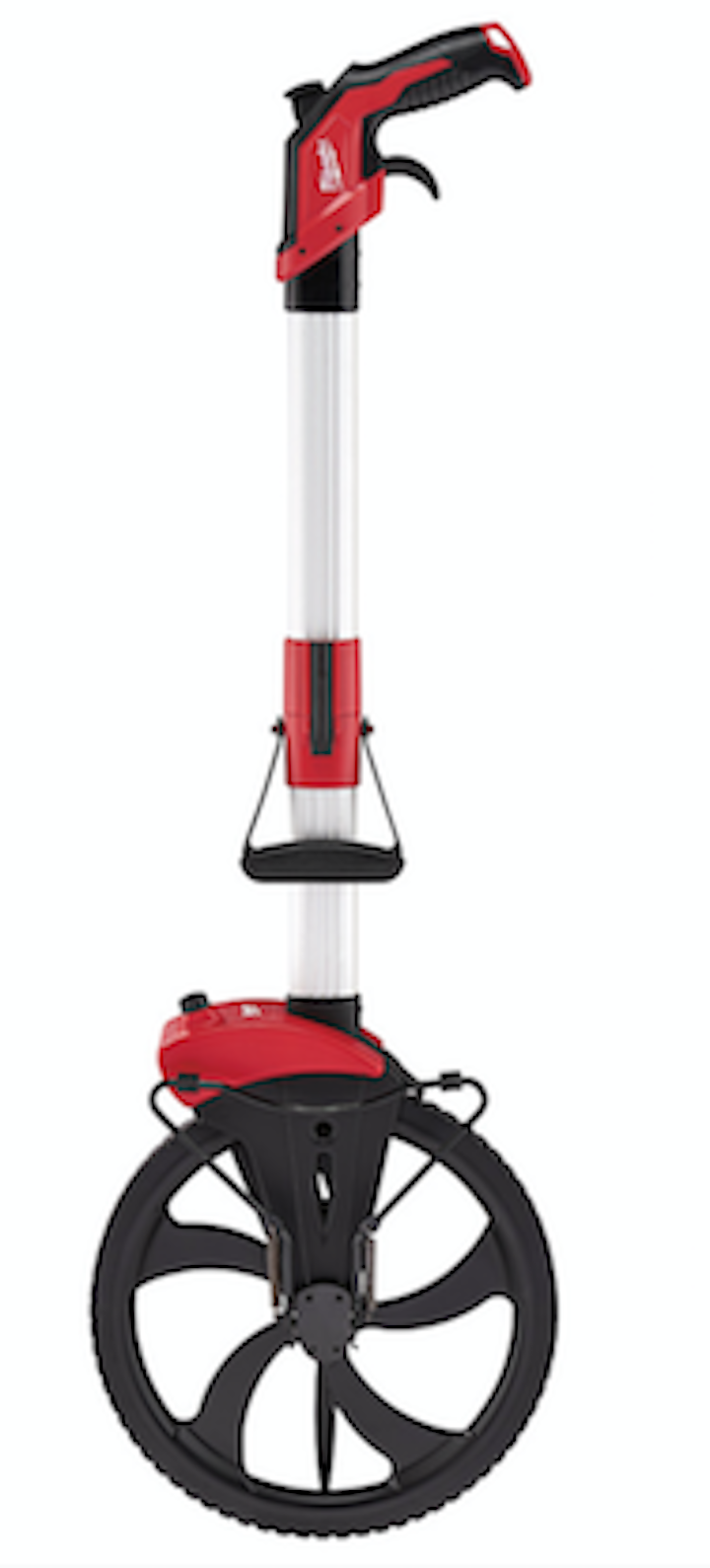 Utility supplies: Milwaukee Tool continues to rapidly expand their Layout and Measurement offering with the introduction of 12" and 6" Measuring Wheels. The most durable and accurate of their kind, the new units were designed for extreme durability, increased ergonomics, and productivity.
Constructed of reinforced aluminum frames and reinforced folding joints, the new measuring wheels are able to withstand the toughest jobsite conditions. Durable locking pivot points help quickly fold the units for transportation and storage. To prevent build-up of dirt and grime that could potentially jam the wheel, the 12" Measuring Wheel has also been designed with a Debris-Cleaning Wheel Flap that easily clears away contamination while rolling. In addition, the 12" measuring wheel also includes a reinforced kick stand.
Both feature ergonomic pistol grip handles, designed to provide similar ergonomics to that of a power tool handle, fitting the hand of the user better than other wheels on the market. These handles feature a top brake function that can be used to 'lock' the wheel and the reading, increasing accuracy. The 12" Measuring Wheel is also designed with a top handle clearing function for easier use, allowing the user to reset for each measurement without bending over.
For added utility, the 12" features a carrying handle, while the 6" can be easily folded down to a compact 18" which allows for easier transport and versatility.
Measuring Wheel Options:
• 12" Measuring Wheel 48-22-5012
• 6" Measuring Wheel 48-22-5006
About Milwaukee Tool
Since the company began in 1924, Milwaukee Tool has led the industry in both durability and performance by providing the best in professional, heavy-duty tools and accessories. With an unwavering commitment to the trades, Milwaukee continues to lead with a focus on providing innovative, trade-specific solutions. Whether it is through their leadership in LITHIUM-ION technology, as seen in the M12™, M18™ & M28™ Systems, time-saving accessories or innovative hand tool products, Milwaukee is dedicated to delivering a steady stream of advanced solutions for the trades that offer increased productivity and unmatched durability. Milwaukee Tool is a Brookfield, Wisconsin-based subsidiary of Techtronic Industries Co. Ltd.
For more information about Milwaukee Tool or other products, click here to go to Utility Products' Buyers Guide.