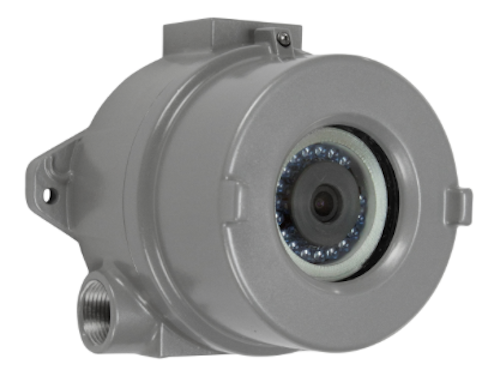 Safety equipment: Larson Electronics, a company that specializes in industrial lighting equipment, has announced an explosion proof high definition analog camera for use in hazardous locations where remote observation may be required. The EXPCMR-ALG-1080P-1227 explosion proof analog camera is an inspection camera that allows operators to have live feed from inside a tank, reactor or vessel, providing a safe solution for observation in hazardous areas. This explosion proof camera is highly durable and can be operated remotely from a centralized control room. This unit is compact in size, measuring six inches wide, eight inches long, and weighing only eight pounds. The camera features an infrared LED array providing low light and nighttime visibility and automatically switches over to IR mode when lux levels drop below a preset level.
The camera is housed within a pressure resistant 316 stainless steel body that weighs in at only four and a half pounds. It has one lux sensitivity, a two wire transmitter, and a polished stainless steel mounting bracket. This unit is available with a 3.6mm fixed lens, featuring 90-degree coverage to capture large wide areas, and produces an image up to 1080p resolution. Wiring for this unit is achieved through a 3/4" NPT hub with user provided coax cable. The cable is fed from the camera, to a DVR system that is mounted outside of the hazardous area. This unit operates on 120 to 240 volts AC and includes an adjustable surface mount bracket for precise placement.
Larson Electronics carries an extensive line of LED light towers, portable power distributions, explosion proof lights for hazardous locations, portable work lights and industrial grade LED area lights.
For more information about Larson Electronics or other products, click here to go to Utility Products' Buyers Guide.