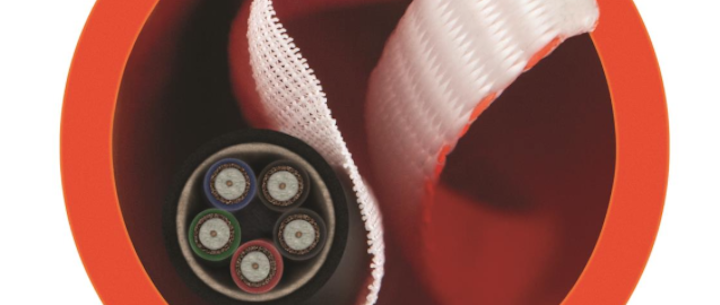 Utility supplies: Milliken Infrastructure Solutions LLC, a subsidiary of Milliken & Company, has expanded its line of Vis Divide, a segmented high-density polyethylene (HDPE) rigid conduit that provides dedicated pathways for the placement of more than one cable in a single conduit without damaging the cables, to include a 2-inch DR 11, 2-cell configuration.

Launched earlier this year with a 1.5-inch, 2-cell configuration, Vis Divide offers a distinct advantage over other HDPE conduits by allowing for the placement of multiple cables into a single conduit. Vis Divide includes a textile divider molded directly into the conduit that provides operators deployment flexibility and efficiency—optimizing network infrastructure space and easing cable replacement. Vis Divide also helps to lower long-term costs of projects by requiring fewer conduits on a job thus reducing operational costs, including boring/trenching, transportation and replacement.

Like all Milliken products, Vis Divide offers long-lasting reliability. Vis Divide conforms to ASTM F-2160 and ASTM D-3350 standards and specifications.

"The response we've had for the initial launch of Vis Divide has been extremely positive as users see the advantages that our Vis lineup offers—from ease-of-install to cost-savings," said Dale Willis, vice president for Milliken Infrastructure Solutions, LLC. "The 2-inch Vis Divide offers additional design options to those involved in the deployment of cables and is designed specifically to address the modern demands in data communication cable installation and management."

The launch of Vis Divide coincided with the debut of the Vis brand, Milliken's new line of high performance cable management and infrastructure optimization solutions.

In addition to Vis Divide, the Vis product lineup includes Vis Tape, an industrial grade pull tape featuring long-lasting print legibility and durability, print length accuracy and a soft feel.

Vis Tape was designed using Milliken's MPrint™ technology, an entirely new process, which results in an industry-leading print durability and legibility standard for measurements and other markings. Installers can rely on Milliken's process for creating Vis Tape's highly accurate print lengths—with sequential markings every two feet—to ensure cable runs are correct each and every pull. Vis Tape's non-abrasive coating also helps to prevent conduit damage during cable installations.

Milliken's Vis Tape features an ultra-soft feel for their durable tape, which eliminates the rigidness commonly found in other tapes and ropes. Vis Tape is manufactured with low elongation properties to reduce snap backs, providing a safer alternative to pull ropes.

Milliken's Vis Tape is available in a standard and detectable version in a variety of tensile strengths, ranging from 1,130 to 2,500 pounds.

About Milliken Infrastructure Solutions
Milliken Infrastructure Solutions LLC offers a range of smart, practical innovations focused on exploring new materials and installation-friendly methods to make it easier and more efficient to rehabilitate, repair, and strengthen infrastructure. Headquartered in Spartanburg, South Carolina, the company's extensive range of products – from fiber reinforced polymer and geopolymer mortar systems, to geosynthetic composite concrete mat and cable management products – offer solutions for oil, gas and industrial; storm and sanitary; buildings and parking facilities; tra­nsport infrastructure; and telecom markets. Milliken Infrastructure Solutions is a subsidiary of Milliken, a global innovation leader that has over 2,200 U.S. patents - and more than 5,000 patents worldwide - since its founding in 1865.
For more information about Milliken Infrastructure Solutions or other products, click here to go to Utility Products' Buyers Guide.