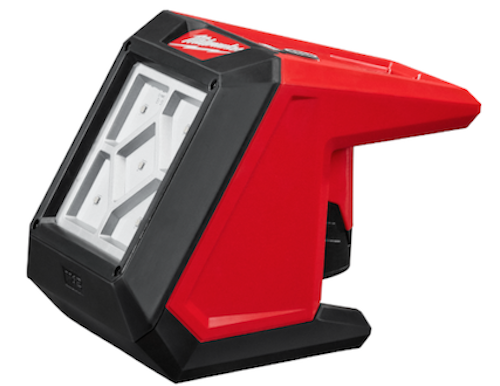 Work light: Milwaukee Tool continues to expand their Lighting Solutions with the introduction of the M12 ROVER™ LED Flood Light. Designed for the trades that are constantly on the move, the new light is a replacement for 250w halogen and portable enough to take anywhere and versatile enough to hang everywhere.
"Halogen flood lights have a difficult time keeping up with our users on jobsites. The cords, lack of durability, and excessive heat make them very challenging to move from space to space" said Tom Simeone, Vice President of Product Management. "By leveraging our leadership in cordless and LED technology, we've been able to provide lighting solutions that change all of that. The new M12 ROVER™ LED Flood Light is the ultimate light for on-the-go use – providing unmatched light output in a compact package that can go anywhere and withstand anything."
The M12 ROVER™ LED Flood Light is designed with integrated hanging features that make it easy to adapt to the environment. A magnetic base allows users to stick the Flood Light to metal surfaces such as steel studs, electrical boxes, ductwork, and job boxes. A spring loaded reinforced clamp makes it quick and easy to mount to other common surfaces like wood studs, scissor lifts, job carts, ladders and more. With the ability to rest in 5 different positions, it can also direct light in multiple directions and angles.
Capable of providing 1000 lumens of light, the new M12 ROVER™ LED Compact Flood Light can illuminate large workspaces for up to 15 hours on a single charge. The Flood Light features TRUEVIEW™ Technology, which utilizes the most advanced LED technology and optical designs to deliver a consistent beam, optimized color temperature, and true representation of colors and detail leading to a more productive work area.
A durable high impact polycarbonate lens design can survive harsh jobsite conditions and, when paired with the Flood Light's rubber over mold, can survive 9' drops. Additionally, with an IP54 rating, the Flood Light is protected from dust and water. Similar to all of Milwaukee's high output LED lights, the new Flood Light also features a limited lifetime LED warranty, and a 5-year warranty on the product.
Powered by Milwaukee RED LITHIUM batteries*, the new M12 ROVER™ LED Compact Flood Light is compatible with the M12™ cordless system, now offering more than 70 power tool products. Committed to its focus on the user and investment in game-changing technology, Milwaukee® will continue to design and develop lighting solutions with the ability to adapt, perform and survive the demands of professional use.
*batteries sold separately.
Specifications
M12 ROVER™ LED Compact Flood Light (2364-20) Coming October 2016
1000 Lumens on high (3.5 hours of runtime)
400 Lumens on Medium (7.5 hours of runtime)
200 Lumens on Low (15 hours of runtime)
2.19 lbs
About Milwaukee Tool
Since the company began in 1924, Milwaukee Tool has led the industry in both durability and performance by providing the best in professional, heavy-duty tools and accessories. With an unwavering commitment to the trades, Milwaukee continues to lead with a focus on providing innovative, trade-specific solutions. Whether it is through their leadership in LITHIUM-ION technology, as seen in the M12™, M18™ & M28™ Systems, time-saving accessories or innovative hand tool products, Milwaukee is dedicated to delivering a steady stream of advanced solutions for the trades that offer increased productivity and unmatched durability. Milwaukee Tool is a Brookfield, Wisconsin-based subsidiary of Techtronic Industries Co. Ltd.
For more information about Milwaukee Tool or other products, click here to go to Utility Products' Buyers Guide.