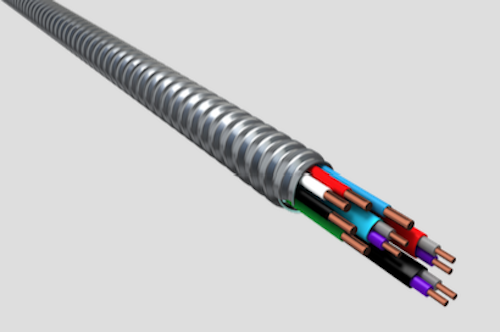 Utility supplies: AFC Cable Systems, a manufacturer of electrical products and part of Atkore International, will be highlighting several new product lines at NECA Boston 2016, October 7-10, 2016, at the Boston Center and Exhibition Center, Boston, MA. On display in Booth #601 will be two new products expanding AFC's popular MC Luminary™ Metal-Clad Cables – MC Luminary MultiZone™ for daylight harvesting applications, and MC Luminary HCF™ for healthcare applications, with a dual grounding path that enhances safety.
The MC Luminary MultiZone™ on display is the first product designed specifically for use in daylight harvesting applications. It complies with non-residential indoor lighting requirements contained in the California Title 24 Energy Efficiency Standards for Residential and Nonresidential Buildings and other energy saving lighting designs. MC Luminary MultiZone™ responds to daylight harvesting trends that seek to save energy and reduce power costs by dimming lights proportionally to the availability of natural light. One MC Luminary MultiZone™ cable can replace up to three traditional MC Luminary™ cables or three power and three control pair cables.
With a dual grounding path required by NEC 51713, MC Luminary HCF is approved for use in patient care areas. The new cable is designed specifically for use with newer energy-saving solid state LED and fluorescent lighting fixtures. By coupling the standard power wiring for lighting fixtures with the low voltage control wiring under a single armor, a single MC Luminary HCF cable does the job of two cables when connecting to LED and fluorescent fixtures, dimmers, switches, occupancy sensors and other controls. Their use can save up to 30 percent of labor and installation costs compared to traditional wiring methods, while also reducing procurement time and material waste.
About AFC Cable Systems:
AFC Cable Systems, Inc. is a leading manufacturer of electrical products, tracing its origins to 1926. AFC supplies a broad range of innovative, cost-saving products to the electrical industry. These products include: armored and metal clad cables, flexible metal conduits, non-metallic, and liquid-tight conduits as well as modular wiring systems, and electrical fittings. AFC Cable System's provides products used in new construction, restoration and modernization of commercial office buildings, institutional facilities, healthcare, and more.
About Kaf-Tech:
Kaf-Tech is a leading designer, manufacturer and supplier of electrical distribution products, including cost-saving armored and metal clad cables, conduit fittings, and other products for electrical applications. Kaf-Tech is known for supplying flexible wiring systems, flexible metal, non-metallic, and flexible metallic liquid tight conduits and fittings used in the construction and modernization of commercial office buildings, institutional facilities, shopping centers, and multifamily dwellings.
Both AFC Cable Systems and Kaf-Tech are part of Atkore International.
For more information about AFC Cable Systems or other products, click here to go to Utility Products' Buyers Guide.