Utility equipment: Medium-voltage cable accessories
Utility supplies: Thomas & Betts offers Elastimold EASE to configure medium-voltage cable accessories. New online tool provides product selection support for underground cable connection management.
Jun 14th, 2016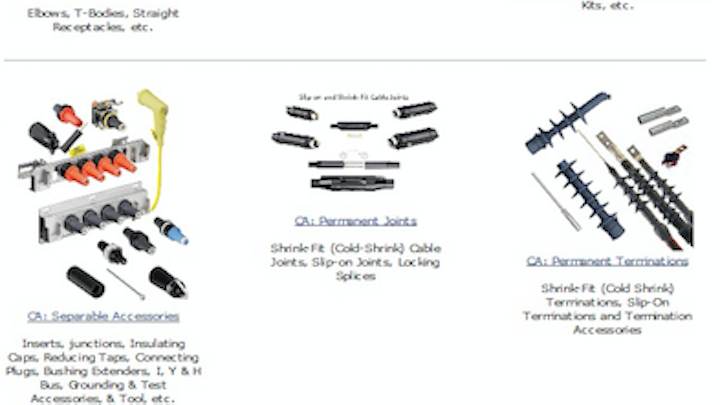 Line construction: Thomas & Betts (T&B) now offers online product selection support for medium-voltage cable accessories with the new Elastimold® EASE® expedient application selection engine, a configuration tool for Elastimold products that manages underground cable connections.
The Elastimold EASE expedient application selection engine is easy to use; it employs visual aids and simple drop-down menus to guide specification of the appropriate product for the intended application. The step-by-step selection process ensures that no errors are made in product specification, as only valid options are displayed to enable the user to tailor a complete solution to meet job requirements.
"The Elastimold EASE online configurator provides 24/7 cable accessory selection support, enabling the customer to be sure the correct product is selected for the application," Ralph Donati, product marketing director at T&B, said. "The online selection engine enables the user to enter requirements manually or choose from existing selection guides in making medium-voltage accessory decisions."
Other features of the Elastimold EASE expedient application selection engine include guidance in selecting the proper sealing and grounding products for complete and reliable installations, as well as access to additional, related literature, such as product specification sheets and crimp guides. The configurator's flexibility makes it easy to select the components needed for the application.
For more information about the Elastimold EASE expedient application selection engine from T&B, please visit www.tnb.com/elastimold-ease, or call (800) 238-5000.
Thomas & Betts Corporation, a member of the ABB Group, is a global leader in the design, manufacture and marketing of essential components used to manage the connection, distribution, transmission and reliability of electrical power in utility, industrial, commercial, and residential applications. With a portfolio of more than 200,000 products marketed under more than 45 premium brand names, Thomas & Betts products are found wherever electricity is used. Thomas & Betts' headquarters are in Memphis, Tenn.
For more information about Thomas & Betts or other products, click here to go to Utility Products' Buyers Guide.