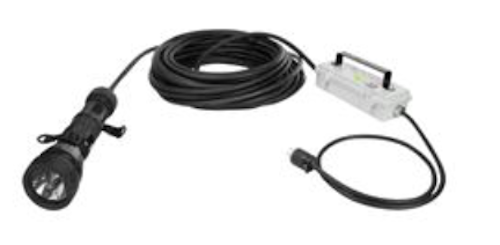 Work light: Larson Electronics, an industrial lighting company, has announced the release of a 20 watt HID explosion proof search light equipped with a 100 ft. cord and an inline transformer.

The EPL-20W-HID-X24V-100 HID explosion proof search light from Larson Electronics is Class 1 Division 1 approved and produces a brilliant light beam capable of reaching over 2,500 feet. This work light features 100 feet of cord and an inline encapsulated transformer that steps down the input current from 120-277 volts AC down to 24 volts DC. An extra 10 feet of cord is located between the transformer and the general area cord cap. Larson offers multiple options for cord caps to accommodate outlets across the globe.

This HID search light gives operators the ability to consistently use the light without the hassle of a dead battery. A single 20-watt short arc Xenide HID bulb powered by an internal ballast produces a 1,200 lumen light beam capable of reaching up to 2,500 feet. This handheld HID search light is IP68 rated waterproof and is constructed of a durable aluminum body with a black anodized coating that provides protection for the internal electronics of the unit.

"This new HID work light gives operators the freedom from having dead batteries in the middle of an operation," said Rob Bresnahan, CEO of Larson Electronics. "This light is ideal for inspection activities in hazardous areas, tank cleaning, and mining applications where a powerful lighting solution is preferred."

Larson Electronics carries an extensive line of LED light towers, portable power distribution systems, explosion proof lights, portable work lights and industrial grade LED area lights. You can view Larson Electronics' entire line of lighting products by visiting them on the web at Larsonelectronics.com. You can also call 1-800-369-6671 to learn more or call 1-214-616-6180 for international inquiries.

For more information about Larson Electronics or other products, click here to go to Utility Products' Buyers Guide.