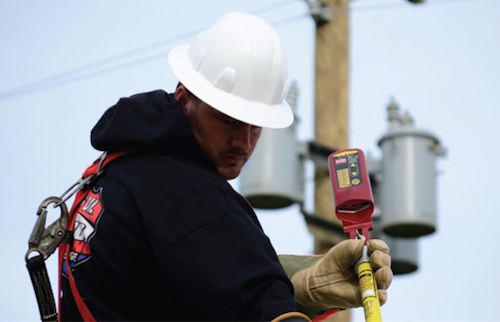 Safety products: HD Electric Co., a Textron Inc. company, has released its newest line of products, the PRXTM Proximity Voltage Detectors. These new voltage detectors come in three versatile, lightweight, and weather resistant models which allow linemen to safely and accurately verify the presence of voltage without contacting the conductor, making it flexible to use under any condition.

The PRXTM Proximity Voltage Detector family features the PRXTM "Sensing Zone" which allows for directional discrimination when working around complex over builds and under builds, making the detectors ideal for various working environments.

Each detector in the PRXTM Proximity Voltage Detector family features a rechargeable Lithium-Ion battery that, with a 15-minute charge, will last a full day and, with a three-hour charge, will last a whole week. All detectors come with dual mounting options - universal spline and shotgun stick - and display a clear warning of voltage with flashing LED lights and a loud audible alarm.

The PRXTM Proximity Voltage Detector family has three models with voltage ranges from 50V up to 500kVAC so different utility professionals can get as specific as they need to:

· PRX-500 – Intended for transmission, this detector has nine standard voltage ranges from 120VAC up to 500kVAC.
· PRX-69D – Designed specifically for distribution crews, this detector works on distribution ranges from 120VAC to 69kVAC.
· PRX-4 – Essentially a HI/LO proximity voltage detector, the PRX-4 serves a wide range of applications such as storm assessment, meter reading, and much more.
About HD Electric Company
For over 80 years, HD Electric Company, a Textron Company, has provided products serving the diverse needs of the electrical power industry and its related industries worldwide. HDE's continuous improvement and innovation in the areas of controlling, testing, measuring and recording of electric power has resulted in the development of leading edge products designed to help deliver electric power to customers safely and efficiently. More information is available at www.HDElectricCompany.com.

Textron Inc.
Textron Inc. is a multi-industry company that leverages its global network of aircraft, defense, industrial, and finance businesses to provide customers with innovative solutions and services. Textron is known around the world for its powerful brands such as Bell Helicopter, Cessna, Beechcraft, Hawker, Jacobsen, Kautex, Lycoming, E-Z-GO, Greenlee, Textron Systems and TRU Simulation + Training.
For more information about HD Electric or other products, click here to go to Utility Products' Buyers Guide.