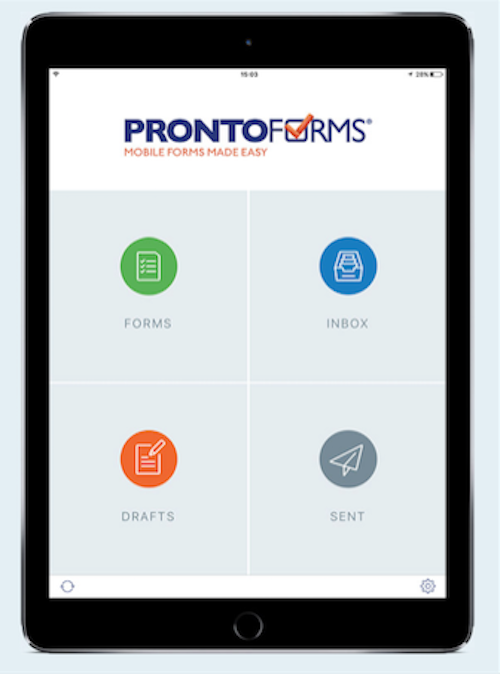 Utility supplies: The ProntoForms App enables mobile users to receive dispatched forms from the office, collect vital work data in the field and submit complete, media-rich and error-free forms, anywhere and in real time.
Dispatching
Dispatch forms like work orders to field users via the ProntoForms Web Portal and avoid wasted trips back to the office.

Signature, picture & barcode capture
Collect authorization via signature capture right on your device using the touch screen. Add a picture to your form to provide a real image of on-site inspections, installations, audits, verifications and problem situations. Scan QR and barcodes from the device and include them right into your forms.

Sketch Pad
You can sketch on a blank canvas, pre-loaded image or device image. All sketches are integrated into your mobile form.

Offline form functionality
Fill out and send forms with or without connectivity on site. Forms are auto-sent once network is restored.

Credit card processing
Accept credit card processing on your mobile device with ProntoForms and close business transactions on the spot (North America only).
Fully compatible
The ProntoForms App works on (almost) any device and operating system, including iOS, Android, BlackBerry, Windows Phone or on a Web browser.

GPS and time stamps
Quick and simple location and time verification using GPS and time stamps. Confirm the location of job sites, customer visits, time of arrival and work performed.

External data sources
Embed your business data into your mobile forms with our Data Connections options. Provide your field teams with real-time access to your office data, right into their forms (such as customer information, pricing & part numbers, manuals).

Auto-calculations
Lost track of time? Automatically calculate the start time, end time, or time spent on a given job.
Need an estimate? Compute totals and get results immediately. Perform calculations within forms and confirm quotes.

Advanced input controls & Skip Logic
Control how you input data into your forms using dropdown lists, text fields as well as quick select features such as radio buttons, multi-selects or true/false options. Use Skip Logic to create sophisticated forms that can take specific paths, depending on answers to different field selections.

Calendar integration
Send an event invitation via an emailed form and enable recipients to accept and auto-schedule events into their mail calendar.

Voice-to-text
Dictate text right into the form using your mobile device's voice-to-text capabilities (available on iOS and Android only)
For more information about ProntoForms or other products, click here to go to Utility Products' Buyers Guide.