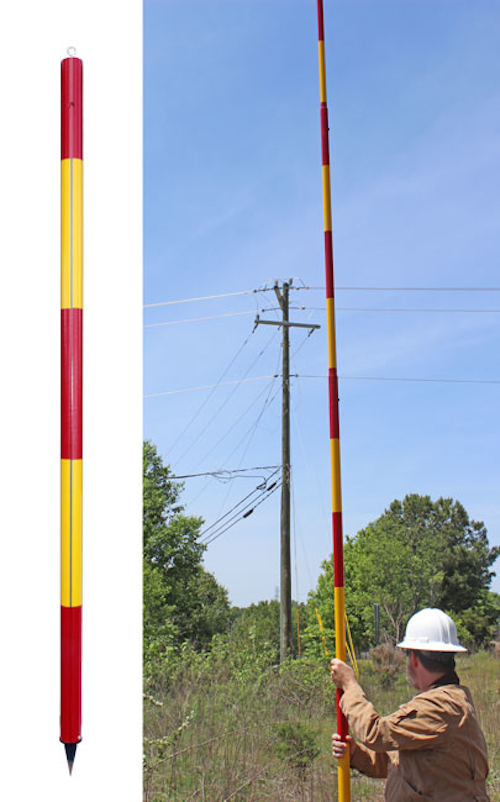 Utility tools: Utility Solutions, Inc. has responded to market demands and introduced two sizes of Telescopic Range Poles for the electrical distribution market. The BLUE STRIPE® Telescopic Range Poles went on sale this Spring and are available for immediate delivery.
"We are responding to customers who could not find a steady supplier of Range Poles", said Roger May, Sales Director for Utility Solutions, Inc. "Some reported lead times of more than 6 months. We used all of our resources and experience in the fiberglass industry and quickly created a solution. The Range Pole should have an immediate and positive impact on the market."
Range Poles have offered field personnel a simple and reliable method of sighting and measuring for many years. The red and yellow contrasting sections allow for long distance visibility and the compact, telescoping design makes for easy transport. From setting poles to conducting terrain surveys, the BLUE STRIPE® Range Poles offer a compact and robust option for both utilities and contractors.
The BLUE STRIPE® Telescopic Range Poles are available now and come in two sizes: 20' (5 sections) or 16' (4 sections). Each include a metal eyelet, steel pointed base, and optional bag.
About Utility Solutions, Inc.
Utility Solutions, Inc. is a designer and manufacturer of hot line tools and products for the electrical power industry. Founded in 1990 by engineers with broad electrical distribution experience, Utility Solutions has accumulated an impressive list of innovative and patented products that directly relate to a lineman's job.
For more information about Utility Solutions Inc. or other products, click here to go to Utility Products' Buyers Guide.