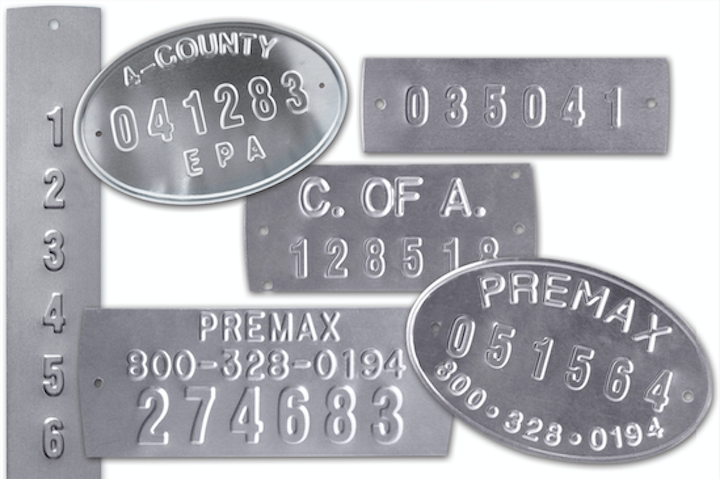 Line maintenance: Smart Grid Tags® from Premax create the physical link between a utility's computer database and its asset in the field. Randomly numbered, Smart Grid Tags® provide each utility asset with a unique ID number – a "license plate," if you will – allowing utility personnel to mark poles without having to worry about marking in sequential order.
Without duplicate numbers or the need for consecutive order, adding a pole or replacing a lost tag does not compromise the marking system. The tag can simply be replaced or a new one added, eliminating the need to improvise a marking solution.
Premax has been manufacturing utility marking systems since 1922. Premax's embossed aluminum letters and numbers, in both Roman and Gothic typefaces, set the utility industry standard for property markers, station numbers, and pole identification. A large inventory allows for same-day shipping on stock products and five business day turnaround on other standard products. Custom products are also available.
Premaximum Service is Premax's commitment to meeting specific marking needs through industry-leading knowledge, product focus, and customer-centric attention. Technical specifications, typeface layout options, and a sales rep locator map are all available on the Premax website at: premaxlp.com
For more information about Premax or other products, click here to go to Utility Products' Buyers Guide.