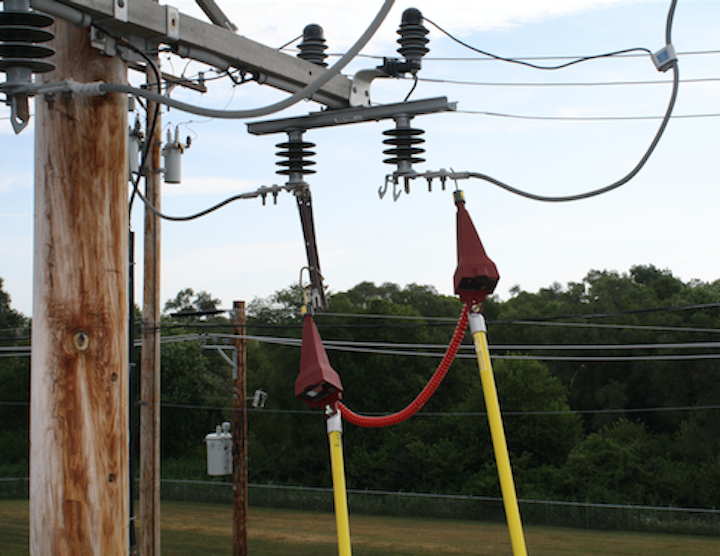 Test equipment: HD Electric Co., a Textron Inc. company, has launched its new Double Vision™ Dual Display Digital Voltmeter, a compact, high accuracy dual display voltmeter and phasing set with capacitive test point mode and peak hold. It can be used in both overhead and underground applications and is accurate and repeatable to within 1 percent. The voltmeter is lightweight and its weather-resistant construction is ideal for use in tight work environments with minimum approach distances or with storm duty during disaster relief.
The Dual Display Digital Voltmeter, model DDVM-40, measures voltage from 5V to 40kV and the voltage is displayed on the two large bright LED displays that can easily be read from a distance or in bright conditions. The two LED displays are synchronized so that the same voltage reading is shown on both displays. There is also a dual battery monitor with automatic shut off.

The Dual Display Digital Voltmeter has a single button interface that controls all modes including: Line to line measurements; Line to ground measurements; capacitive test point; Cable fault testing; and Real time & peak hold reporting.

There are several probes and accessories that can be added to enhance your work effort.

About HD Electric Company
For over 80 years, HD Electric Company, a Textron Company, has provided products serving the diverse needs of the electrical power industry and its related industries worldwide. HDE's continuous improvement and innovation in the areas of controlling, testing, measuring and recording of electric power has resulted in the development of leading edge products designed to help deliver electric power to customers safely and efficiently.
For more information about HD Electric Company or other products, click here to go to Utility Products' Buyers Guide.