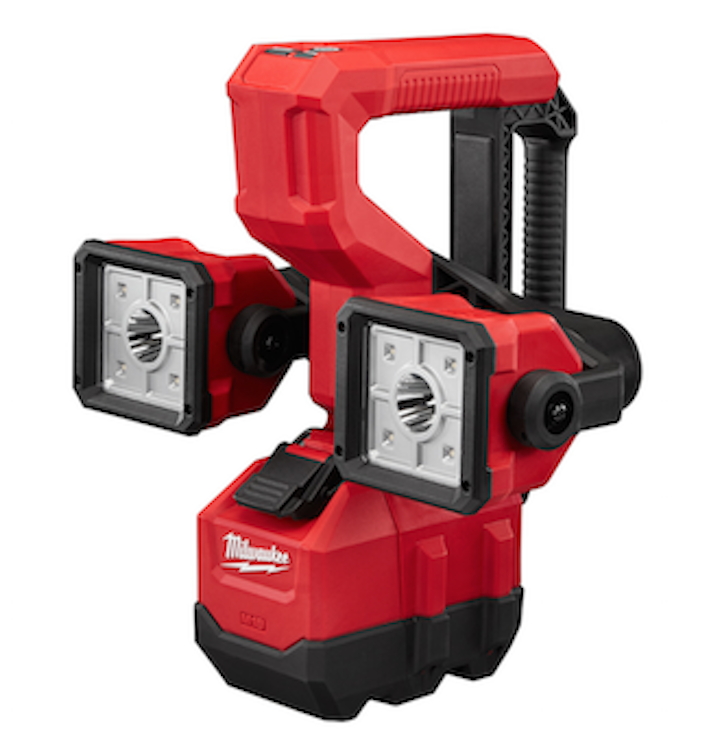 Work light: Milwaukee Tool introduces the new M18™ LED Utility Bucket Light. Built to survive high-voltage and the extreme conditions Linemen face on a daily basis, the new Bucket Light is specifically designed to attach to utility buckets and features dual-rotating heads that provide 2,500 lumens of TRUEVIEW™ High Definition light.
"When performing utility line maintenance, finding appropriate temporary lighting is crucial. Up until now, Linemen have had to resort to positioning a large area light or search light on the ground and direct it towards the bucket, and then supplement that with a light on their helmet. This provides an inadequate and inconsistent amount of light, and often results in a great deal of shadows spotting from the ground due to the bucket being in the way of the light," said Jason Isaacs, Product Manager for Milwaukee Tool. "By developing a light that is fully optimized for utility buckets, we're helping Lineman vastly improve their visibility on the jobsite with high quality and consistent light that has the versatility to adapt to the work they do."
Through a patented spring-loaded bucket clamp, the M18™ LED Utility Bucket Light is easily adjusted to fit all size bucket lips up to 4". Its low profile design allows it to stay tight to the bucket so users have peace of mind that it won't come into contact with branches and utility poles. Whether clamped on the side or in the corner, its small footprint allows more room for other tools in the bucket and added maneuverability for the user.
The Bucket Light does the work of 2 lights in 1 through a dual-rotating head design which allows users to rotate the light heads 180 degrees vertically or horizontally to place the light beam directly where it's needed. A Spot Mode helps identify problems from afar; a Flood Mode provides a broad beam for area and task lighting; and a Spot Flood Mode assists in viewing issues from over 500 yards away, while providing a wider view of the surrounding area to reduce tripping hazards.
The Bucket Light features TRUEVIEW™ Technology, which utilizes the most advanced LED technology and optical designs to deliver a consistent beam, optimized color temperature, and true representation of colors and detail leading to a more productive work area.
The durable high-impact polycarbonate lens can survive harsh jobsite conditions, delivering superior impact durability. An IP56 rating for extreme weather use provides users the confidence that the Bucket Light can hold up to the conditions Linemen commonly experience throughout the day. Additionally, it is tested for use in high voltage situations. As with all of Milwaukee's high output LED lights, the new Bucket Light also features a limited lifetime LED warranty, and a 5-year warranty on the product.
Powered by Milwaukee RED LITHIUM batteries, the new M18™ LED Utility Bucket Light has a run-time up to 4 hours and is compatible with the M18™ cordless system, now offering more than 125 power tool products.
From the power plant, through transmission and distribution, it is Milwaukee's goal to improve productivity and reliability for Linemen by offering performance-driven, cordless solutions on one battery platform. With a base of tools on the M18™ system already used by Linemen, game-changing 6T Utility Cutters, the introduction of the 12T Utility Crimper and three uniquely innovative Utility Cable Cutting solutions this year, and now the industry's first utility bucket light, Milwaukee is committed to making this goal a reality.
M18™ LED Search Light (2122-21HD)
Flood: 2500 Lumens, 4 hours of run-time*
Spot/Flood: 2200 Lumens, 4 hours of run-time*
Spot: 800 Lumens, 6 hours of run-time*
Weight: 10.52 lbs*
*With M18 9.0 Battery
*With Both Light Heads Combined
**Also available as a bare tool (2122-20) or 2 battery kit (2122-22HD)
About Milwaukee Tool
Since the company began in 1924, Milwaukee Tool has led the industry in both durability and performance by providing the best in professional, heavy-duty tools and accessories. With an unwavering commitment to the trades, Milwaukee continues to lead with a focus on providing innovative, trade-specific solutions. Whether it is through their leadership in LITHIUM-ION technology, as seen in the M12™, M18™ & M28™ Systems, time-saving accessories or innovative hand tool products, Milwaukee is dedicated to delivering a steady stream of advanced solutions for the trades that offer increased productivity and unmatched durability. Milwaukee Tool is a Brookfield, Wisconsin-based subsidiary of Techtronic Industries Co. Ltd.
For more information about Milwaukee Tool or other products, click here to go to Utility Products' Buyers Guide.