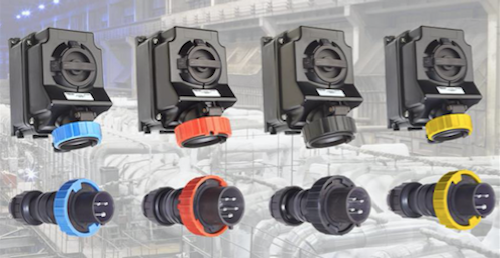 Safety equipment: In a move to drive greater electrical safety in industrial facilities, Appleton has introduced its new UPR Series plugs and switched receptacles. Offering the ability to satisfy the most demanding electrical codes including ATEX and IECEx, UPR Series plugs and receptacles simplify specification in hazardous locations. In addition, the same UPR plug employed in a hazardous location can be used safely in a standard, non-hazardous area when connected to an interlocking non-hazardous receptacle, an advantage that broadens the use of portable electrical equipment throughout a facility.
Compact, lightweight and corrosion resistant, UPR Series plugs and receptacles are ideal for connecting power to portable or stationery electrical equipment, such as industrial lighting systems, heaters, conveyors, motor generators and pumps.
Both 16 Amp and 32 Amp UPR models are constructed of rugged non-metallic polyamide for superior corrosion-resistance, and provide critical safety features like color-coding to ensure safe identification of matching voltages, mechanical interlock so that disengagement cannot occur while energized, along with a keyed design to prevent insertion of plugs into receptacles wired for a different voltage or phase configuration. Adding to operational safety is a lockable external switch that complies with IEC 60309-1, allowing the receptacle to be locked in either "on" or "off" position while giving visual confirmation of status to workers.
For more information about Appleton or other products, click here to go to Utility Products' Buyers Guide.