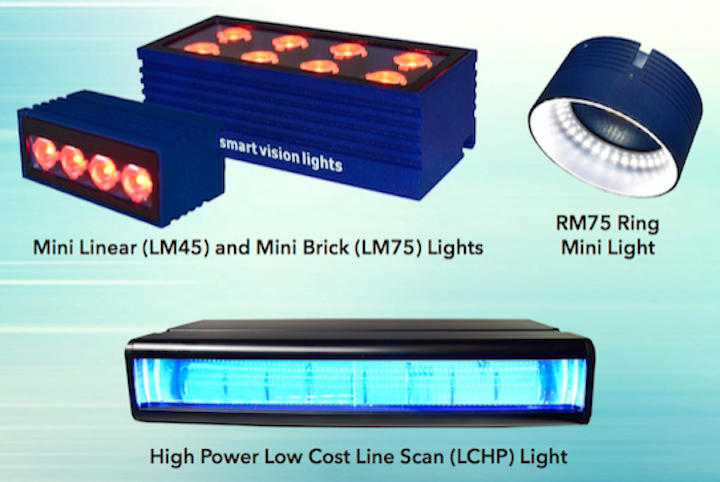 Work lights: Smart Vision Lights, a designer and manufacturer of high-brightness LED lights for industrial applications, will introduce several new machine vision LED lights -- including new additions to its backlight and linear light series product line -- at VISION 2016 in Stuttgart, Germany in November.

Among the products Smart Vision Lights will be featuring at Vision:

• The LLPX Series of large light panel backlights, which allows for more intensity with the same familiar ease of mounting. The LLPX Series' new MultiDrive driver allows users to OverDrive the product for that extra burst of intensity or operate it in constant ON mode.
• The LM45 and LM75 small linear lights (bar lights) for numerous machine vision applications. These lights, boasting active areas of 45 mm and 75 mm respectively, offer high-power 1-watt LEDs, not the small, low-current LEDs offered by other companies. They also come in three lens sizes: wide (80 degree), medium (50 degree), and narrow (16 degree).
• The LCHP Line Scan light, which works in lower-power applications at a much lower cost than that of comparable lights. The LCHP is a lower-cost alternative to Smart Vision Lights' High Power Line Scan (LHP Series) light, which recently won a 2016 Platinum Level Innovators Award from Vision System Design magazine.

About Smart Vision Lights
Smart Vision Lights (Muskegon, Mich.) is a leading designer and manufacturer of high-brightness LED lights for industrial applications, including machine vision. Smart Vision Lights products come with universal internal current-control drivers, offering constant or strobed operation, reduced wiring requirements, and easy installation. Smart Vision Lights products also are the safest on the market thanks to the company's in-house IEC 62741 light-testing laboratory, guaranteeing conformity and compliance for your lighting systems, regardless of where they are installed around the globe.
For more information about Smart Vision Lights or other products, click here to go to Utility Products' Buyers Guide.