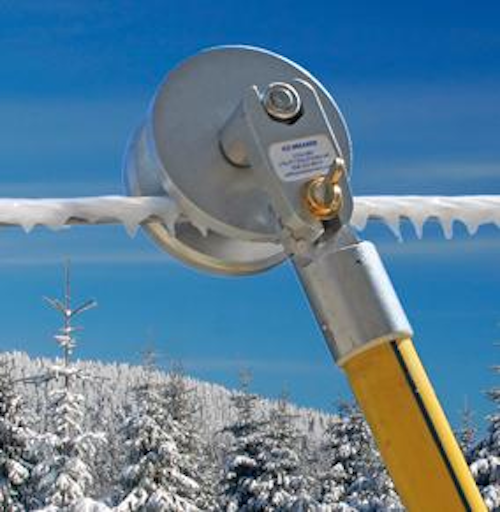 Safety products: Utility Solutions, Inc. has added another Ice Removal product to their Overhead Distribution line. The patented Ice Breaker - Spline End Attachment is a solid aluminum roller that attaches to a hot stick to remove ice on overhead power lines. Utilities now have three unique options of safely removing ice.
USI's first product in this category was the Ice Wacker - Polymeric Ice Removal Tool. Crews attach this tool to any standard fiberglass hot stick to remove ice and debris from overhead distribution systems. The solid polymer material can withstand lots of abuse and eliminates unnecessary damage to fiberglass end sections.
Last year, USI debuted their second ice removal product called the BLUE STRIPE® Heavy Duty Ice Roller. This is a complete ice removal system that includes a large aluminum roller head, foam filled fiberglass sections (5' or 10'), and a swivel pull ring. Each component attaches with a metal push-button which makes for easy transport and storage. This unique device can handle long runs of ice covered overhead lines.
"Our new Ice Breaker attachment rounds out the product line by offering another option for distribution crews", said Roger May, Sales Director for Utility Solutions, Inc. "We now offer our utility customers three unique options for dealing with ice build up on overhead power lines."
The Ice Breaker - Spline End Attachment will go on sale this Fall just in time for the winter season. Sales and Marketing plan to display the new tool at upcoming trade shows.
For more information about Utility Solutions or other products, click here to go to Utility Products' Buyers Guide.