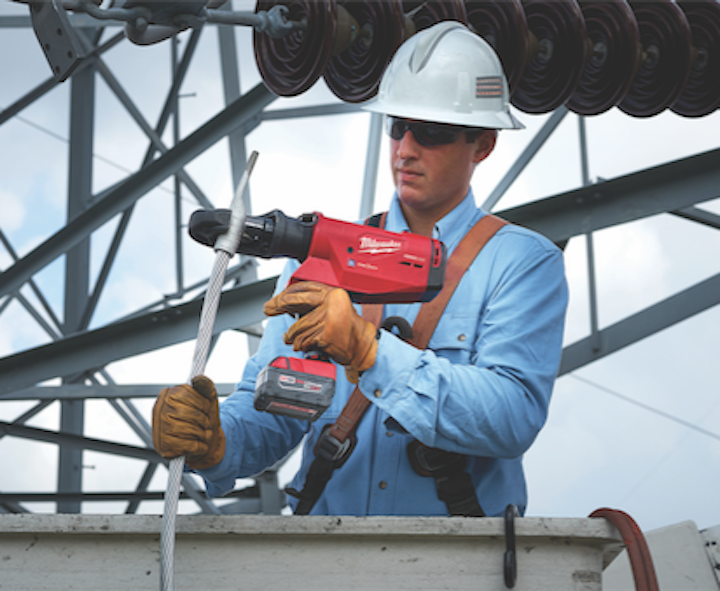 Utility supplies: Milwaukee Tool continues to deliver industry specific products for Linemen with the introduction of the M18™ FORCE LOGIC™ 12T Utility Crimper. Developed specifically for the challenges linemen encounter on a daily basis, the new tool optimizes weight and balance for best in class ergonomics and the easiest way to crimp.
Traditional 12T crimpers are extremely front heavy and unbalanced putting additional strain on the wrist, making aligning crimps a challenge for one person. Understanding the importance of accuracy and ergonomics, Milwaukee® delivered the lightest crimper on the market. Repositioning the handle to fully balance the tool gives the user maximum control. This thoughtful engineering, combined with a 350° rotating head and red alignment marks provides for a neutral wrist position regardless of the way the user needs to crimp and delivers the easiest alignment in the industry.
Featuring Predictive Force Monitoring (PFM™), an adaptive pressure control system, the tool constantly measures force output delivering consistent speed, that won't bog down on larger connectors, and accurate pressure every time. This crimper provides Linemen with instant pressure verification through a green LED indicator. Pre-crimp battery check automatically ensures there's enough battery charge to fully complete each crimp and not get stuck on a connector.
Powered by M18 RED LITHIUM™, the batteries and hydraulic system are optimized for consistent performance from -18°C/0°F to 55°C/122°F ensuring the tool works in the harshest and most remote environments where Linemen work every day. For maximum protection against the elements, sealed electronics keep dirt, dust and moisture out, while PFM™ protects internal components for the longest tool life in the industry.
As a complete problem-solving solution, the M18™ FORCE LOGIC™ 12T Utility Crimper is compatible with the digital platform, ONE KEY™,** which allows the user to sync the tool wirelessly with their mobile device or desktop. Users will be able to upload data and history to create custom reports that track the success and timing of electrical terminations, identify where and when the tool was last seen, and track the utilization and service intervals of the tool to maximize uptime and keep inventory lean.
From the power plant, through transmission and distribution, it is Milwaukee's goal to improve reliability and productivity for Linemen by offering cordless solutions on one battery platform replacing the traditional corded, gas and truck hydraulic solutions used today. With a base of tools on the M18™ system already used by Linemen, the launch of game-changing 6T Utility Crimpers in 2015 and the introduction of three uniquely innovative Utility Cable Cutting solutions this year, Milwaukee® is committed to making this goal a reality.
*FORCE LOGIC™ is engineered to not only improve upon, but fundamentally change the way high-force tools are used in the field. Through thoughtful design focused on workflow, each tool simplifies a complicated process to deliver the best user experience of its kind and the smartest way to work.
**ONE-KEY™ is the first digital platform for tools and equipment. By integrating industry-leading tool electronics with a custom-built cloud based program, ONE-KEY™ provides a new level of control and access to information that revolutionizes the way work gets done. The ability to customize, track, and manage through ONE-KEY™ fundamentally changes the way users interact with their tools
Specifications
M18™ FORCE LOGIC™ 12T Utility Crimper (2778-22)
• Output Force: 12 Tons
• Length: 16"
• Head Rotation: 350°
• Full Pressure Indicator: Yes
• Adaptive Pressure Control: Yes, PFM™
• ONE KEY™ Enabled: Yes
Includes M18 FORCE LOGIC™ 12T Utility Crimper, Carabineer, (1) M18™ RED LITHIUM™ 5.0 XC Battery Pack, (1) M18 RED LITHIUM™ 2.0 Compact Battery Pack, M18™ AC/DC Wall & Vehicle Charger and Utility Bag.
About Milwaukee Tool
Since the company began in 1924, Milwaukee Tool has led the industry in both durability and performance by providing the best in professional, heavy-duty tools and accessories. With an unwavering commitment to the trades, Milwaukee continues to lead with a focus on providing innovative, trade-specific solutions. Whether it is through their leadership in LITHIUM-ION technology, as seen in the M12™, M18™ & M28™ Systems, time-saving accessories or innovative hand tool products, Milwaukee is dedicated to delivering a steady stream of advanced solutions for the trades that offer increased productivity and unmatched durability. Milwaukee Tool is a Brookfield, Wisconsin-based subsidiary of Techtronic Industries Co. Ltd. (TTI) (HKEx stock code: 669, ADR symbol: TTNDY).
For more information about Milwaukee Tool or other products, click here to go to Utility Products' Buyers Guide.