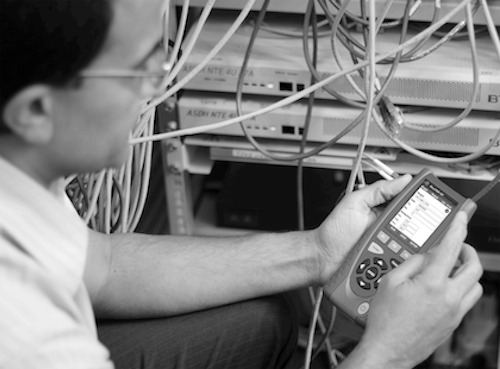 Test equipment: IDEAL Networks' LanTEK III Cable Certifier helps reduce cost and increase productivity when installing and testing cabling. With features including innovative Permanent Link adapters and advanced trouble shooting capability, the new LanTEK® III helps to reduce expenditure and maximise productivity for cable installers on the job. Test results can also be sent via a mobile device using the free IDEAL AnyWARE app.
The new troubleshooting system converts confusing frequency graphs into easy-to-read plots that clearly show the distance to the fault, allowing for quick repair of the link. LanTEK III can locate hidden connections, splices and cable faults using Time Domain Return Loss (TDRL) and Time Domain Crosstalk (TDX).
The ruggedly designed LanTEK III is available in 500MHz (up to Cat6A) and 1000MHz (up to Cat7A) models. For fibre cabling, the new FiberTEK III modules can be added to the LanTEK III-500 or LanTEK III-1000 models to provide Tier 1 certification, eliminating the need for additional fibre testers. Furthermore, industry leading battery life provides up to 18 hours of continuous testing without interruption for enhanced productivity.
New Cat6A Permanent Link (PL) adapters (optional) on the LanTEK III help to reduce downtime and lower maintenance costs, with field replaceable RJ45 contacts, eliminating the need to replace complete PL adapters. The PL adapters also use durable, ultra-flexible cable, allowing the plug to fit into smaller enclosures without risking damage, contributing to longer life.
New IDEAL app launched for cable and network test reports
IDEAL Networks has introduced a free app that allows installers to share test data with colleagues and mobile devices. Used with the new LanTEK® III cable certifier, which can serve as a Wi-Fi hotspot, this helps increase productivity and reduce downtime.
The IDEAL AnyWARE app, which is available for Apple or Android devices, enables the sending of data cable and network test results to colleagues based anywhere. Once tests have been performed, users simply activate the app and transfer the test data to their mobile device. To make this hassle-free and time-efficient, there is no need to connect to a local Wi-Fi network, as IDEAL testers such as the LanTEK III act as a Wi-Fi hotspot. Once transferred, test results can then be sent on via email or file sharing apps and in just a few clicks. This means that installers and technicians can share test data with colleagues based off site without delay, improving collaboration, troubleshooting capabilities and job completion times while removing the need to transport further testers.
In addition, test data can be downloaded to the free and simple to use IDEAL DataCENTER test result management software. From here, results can be analysed, or, in just three steps, transformed into professional reports in PDF, XML or CSV formats. Reports produced can be viewed directly on a users mobile device, so as well as keeping colleagues based offsite up to date, these reports can also be shared with clients or used to help demonstrate job completion to a customer.
Efficient network testing with new NaviTEK NT from IDEAL Networks
IDEAL Networks has launched a new series of NaviTEK NT network testers, designed to help networking professionals quickly pinpoint and solve issues for both copper and fibre optic cabling. The NaviTEK NT tester is compact enough to fit into small, restrictive areas where important cabling is often found, and it offers faster detection of link and IP information, and can detect services like ISDN (Integrated Services for Digital Network) and Power over Ethernet.
NaviTEK NT can simply be connected to a network or plugged into a cable to clearly display useful information and an Autotest function makes initial testing quick and easy, running a suite of network tests. Summary information on the home screen provides an at-a-glance snapshot of the network.
The network tester also enables access to detailed network parameters, including LLDP and CDP port information, Power over Ethernet (PoE), VLAN detection and operation, and Ethernet utilisation, indicating broadcast network traffic in real time. The Netscan feature displays the IP and MAC addresses of everything on the user's network, and the Network Probe feature gives a visual illustration of the user's network.
NaviTEK NT can also be used for accurate cable testing. Time Domain Reflectometry (TDR), is used to locate common wiring faults such as open and short circuits in copper cabling. For fibre optic cabling, NaviTEK NT shows the optical power received from the switch. An optional inductive amplifier probe detects tones generated by any NaviTEK NT to facilitate cable tracing and the hub blink feature will aid port identification.
Once testing is complete, test reports can be downloaded to a USB memory key or to an Android or Apple mobile device via the free IDEAL AnyWARE app.
For more information about IDEAL Networks or other products, click here to go to Utility Products' Buyers Guide.