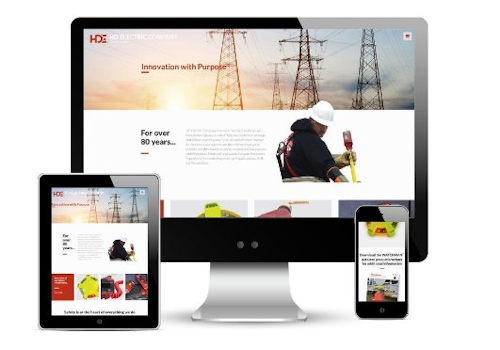 Utility tools: HD Electric Co., a Textron Inc. company, has launched a new customer-focused microsite at www.HDEInnovations.com that promotes new products and encourages product demonstration requests.
"The microsite will provide HDE with a faster, more flexible and more visual way to get new products introduced to the marketplace," said Kimberly Bengson, Marketing Manager. "We have plans to grow the site over time as new products hit the marketplace."

The microsite offers HDE customers insight into the new and innovative products that the company is launching and includes collateral information, the ability to request a product demonstration and the option to join HDE's mailing list. Access to HDE product videos will also be available in the future. The microsite will link to HDE's full website at www.HDElectricCompany.com for additional information.
"We included a section on the microsite that displays the values of HDE - Accuracy, Reliability, Safety and Customization," said Ryan Berg, Director of Product Management. "Our goal is to have these values continue to be a part of all the new innovative products we are developing in the future."

Check out the new microsite at www.HDEInnovations.com.

About HD Electric Company
For over eighty years, HD Electric Company, a Textron Company, has provided products serving the diverse needs of the electrical power industry and its related industries worldwide. HDE's continuous improvement and innovation in the areas of controlling, testing, measuring and recording of electric power has resulted in the development of leading edge products designed to help deliver electric power to customers safely and efficiently. More information is available at www.HDElectricCompany.com.

Textron Inc.
Textron Inc. is a multi-industry company that leverages its global network of aircraft, defense, industrial, and finance businesses to provide customers with innovative solutions and services. Textron is known around the world for its powerful brands such as Bell Helicopter, Cessna, Beechcraft, Hawker, Jacobsen, Kautex, Lycoming, E-Z-GO, Greenlee, Bad Boy Off Road, Textron Systems and TRU Simulation + Training. For more information visit: www.textron.com.

Certain statements in this press release may project revenues or describe strategies, goals, outlook or other non-historical matters; these forward-looking statements speak only as of the date on which they are made, and we undertake no obligation to update them. These statements are subject to known and unknown risks, uncertainties, and other factors that may cause our actual results to differ materially from those expressed or implied by such forward-looking statements.
For more information about HD Electric, Textron or other products, click here to go to Utility Products' Buyers Guide.