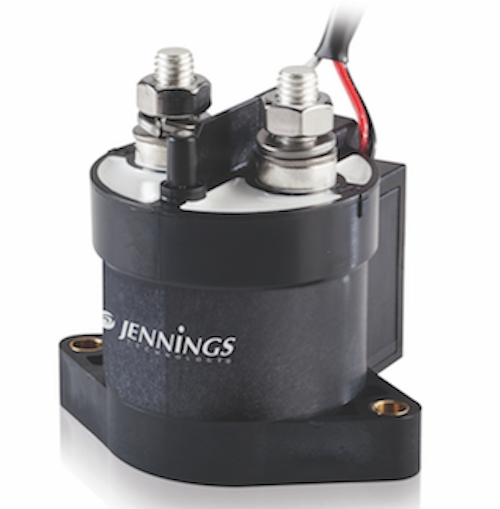 Utility supplies: Jennings® JEV250, JEV400 and JEVB500 Series DC contactors, new from Thomas & Betts (T&B), are designed to provide extended mechanical and electrical life. JEVB500 Series DC contactors are unique in their protection of the electrical circuit, whether the circuit is charging or discharging.
"Jennings DC contactors are engineered to exceed expectations, while being manufactured to the highest quality standards," Ralph Donati, product marketing director at T&B, said. "Not only do they offer an extended mechanical and electrical life, Jennings DC contactors also offer improved voltage ratings. With innovations like the JEVB500 Series' charging or discharging circuit protection, Jennings is providing innovative solutions for the electric grid and heavy-duty electrical vehicles of the future."
Jennings JEV400 Series DC contactors are rated at 450V and designed for power station communications, as well as solar-power, wind-power, smart-grid and electric-vehicle applications. Jennings JEV250, JEV400 and JEVB500 Series DC contactors offer a mechanical life of up to 2 million cycles.
Other benefits of Jennings JEV Series DC contactors are 10-20 percent energy savings, achieved by controlling the inrush current with a constant current inside the magnet coil, even when the supply voltage changes; and lowered noise emissions, with a maximum operation noise level of 60 decibels, the level of office conversation and the quietest available in the industry.
Thomas & Betts Corporation, a member of the ABB Group, is a global leader in the design, manufacture and marketing of essential components used to manage the connection, distribution, transmission and reliability of electrical power in utility, industrial, commercial, and residential applications. With a portfolio of more than 200,000 products marketed under more than 45 premium brand names, Thomas & Betts products are found wherever electricity is used. Thomas & Betts' headquarters are in Memphis, Tenn.
For more information about Thomas & Betts or other products, click here to go to Utility Products' Buyers Guide.