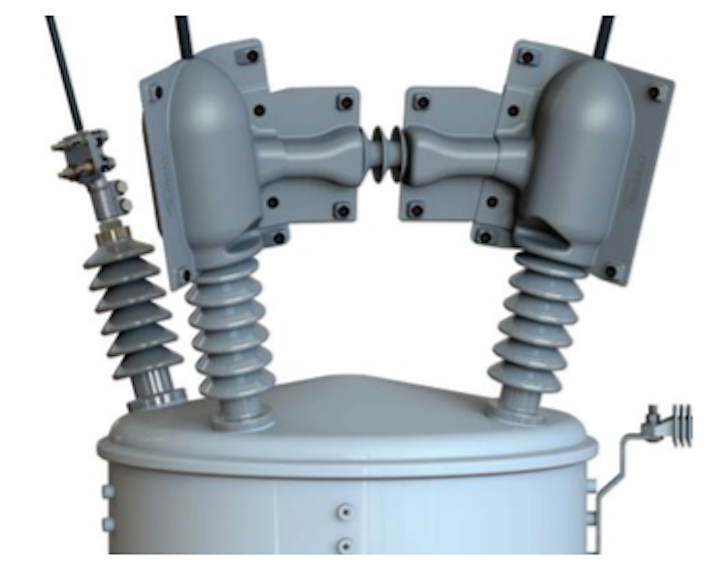 Utility safety: Reliaguard Inc., manufacturer of products to improve powerline protection to prevent animal and bird caused outages, has released a new Reliaguard Voltage Regulator Cover as part of the Reliaguard® product line to complement the GreyEEL Conductor Cover and The EEL Slider™.
Both three-phase and single-phase regulators have reduced clearances because of their characteristic design and how they are commonly configured. These nominal clearances create a high risk for bird and animal contact. The high cost of replacing a regulator is another reason why it is crucial to protect such an important system asset.
Reliaguard® Regulator Covers offer complete coverage of energized components including Series Arresters and Brackets, Bushing Terminals, and Wire Connectors.
Complete coverage of energized components ensures system asset protection from bird or animal contact.
• Reliaguard Regulator Covers have an overlapping design to ensure there are no gaps in coverage. These covers are designed for 50 AMP to 400 AMP Cooper regulators.
• Reliaguard covers offer better retention onto bushings because of their unique design. Reliaguard's two-part Regulator Covers provide comprehensive coverage of the regulator while leaving the insulated area of the arrester exposed for visual verification of the arrester's integrity.
• Reliaguard Regulator Covers can accommodate a wide range of bushings and conductor diameters.
Reliaguard Inc., a subsidiary of Cantega Technologies Inc., is dedicated to the superior design of animal and bird cover-up for the powerline in order to prevent contacts and resulting power outages. Utilizing injection mold and thermoform processes, cover-up parts as well as conductor cover are manufactured to the highest standards – all intended for use for the prevention of animal and bird-caused power outages on the powerline. Reliaguard® has developed a proprietary material, known as Reliatanium™, to manufacture its Reliaguard® parts. Reliatanium achieves a V-0 flammability classification, the highest rating for the UL 94 test standard.
Reliaguard is the right product for utilities looking for a superior fit custom commodity cover-up product to protect common equipment types such as bushings, switches, lightning arrestors, pin insulators, terminators, and dead ends.
For more information on Reliaguard® powerline parts, GreyEEL or The EEL Slider, please contact our direct sales force at 949.305.3311 or sales@reliaguard.com, or visit the Reliaguard website: www.Reliaguard.com.
About Reliaguard®
Reliaguard® is a subsidiary of Cantega Technologies Inc., dedicated to the design of commodity animal and bird guards for the powerline. Reliaguard® also manufactures conductor cover to be used in conjunction with its animal guards. Manufactured in California, USA, Reliaguard® parts are produced on a volume basis using injection mold and thermoform manufacturing processes and priced affordably for large volume purchases.
For more information about Reliaguard or other products, click here to go to Utility Products' Buyers Guide.