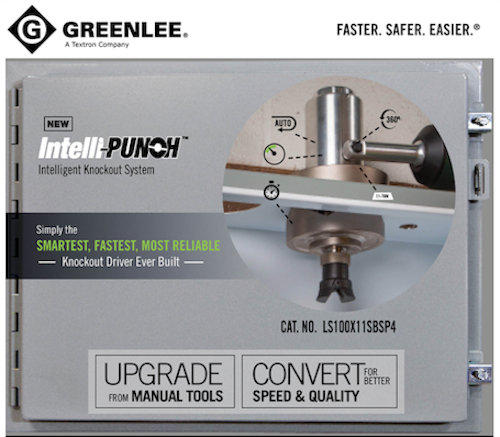 Utility supplies: Greenlee's new Intelli-PUNCH Intelligent Knockout System is smart, fast and reliable. Among features:
Pressure-sensing Technology
· Intelli-PUNCH accurately detects punch completion, preventing damage to knockout parts
· Patent Pending Auto-retract Technology
· Automatically retracts the ram upon punch completion
Powerful 11 Ton Punching Force
Punch up to:
· 6" conduit 14 GA – mild steel
· 4" conduit 10 GA – mild steel
· 4" conduit 10 GA – stainless steel
360 Degree Rotating Head
· Rugged patent pending swivel design to punch at any angle
Timesaver
· Punch faster, with a maximum cycle time of 8 seconds
Gator Eye Compatible
· With i-Press software, monitor tool performance including peak forces and number of cycles.
Compact, Ergonomic Design
· Provides easy one-handed operation and an ergonomic tapered grip
Compatibility
· Works with all Greenlee knockouts and other major brands designed for use with a hydraulic tool
Battery Platform
· Powerful long-lasting 18V Li-ion battery, quickly charges n 30 minutes
For more information about Greenlee or other products, click here to go to Utility Products' Buyers Guide.