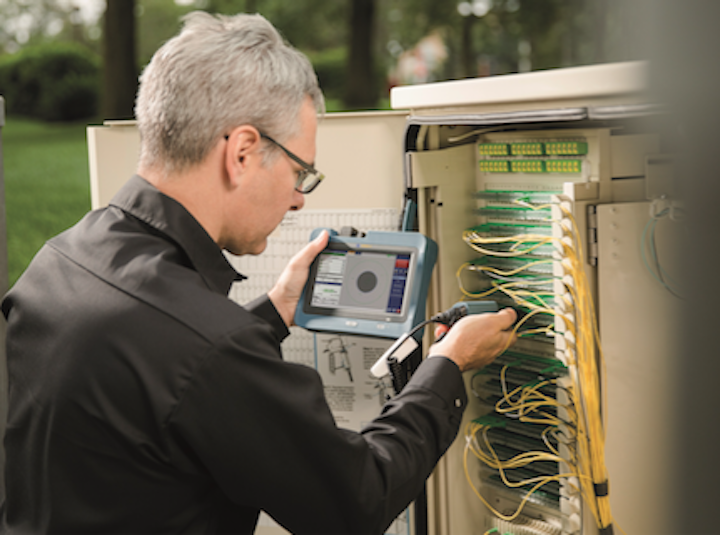 Test equipment: IDEAL Networks, global manufacturer of cable and network testers, has launched the OTDR II, a Tier 2 fiber optic cable tester that addresses the need for user-friendly and accurate fiber troubleshooting for network installation technicians.
The OTDR II (Optical Time Domain Reflectometer) excels in fault finding on fiber cabling with industry-leading specifications and performance levels on both single-mode and multimode fiber networks. Not only does OTDR II deliver accurate test data and pass/fail results, it also offers automated fault-finding capabilities that help to minimize network downtime.
Specially developed to simplify testing and troubleshooting, the OTDR II includes IDEAL Networks' intelligent Optical Link Mapper (iOLM). At the touch of a button this functionality turns complicated graphs into an easy to read diagram displaying all events along the link with pass/fail results. The automated system's advanced algorithms also prevent common OTDR testing challenges, such as wrong OTDR traces, having numerous traces to analyse and repeating the same job twice. Easy to use, technicians can use iOLM to locate and identify faults with optimum efficiency and with no need for complex training or support.
As the ideal solution for contractors, the versatile and budget-friendly OTDR II offers an all-in-one solution for multiple network testing. Handheld and lightweight, the tablet-style tester is rugged enough to be used in any environment and also offers an outdoor-enhanced touch screen. With icon based functions and intuitive Windows-like operation, OTDR II offers the best possible user experience. It also includes powerful reporting software which can be used to create and customize reports to meet business requirements.
"The new OTDR II helps contractors and network operators build faster, more reliable fiber networks," says Tim Widdershoven, Global Marketing Manager at IDEAL Networks. "As the perfect companion to the new OC I for Tier-1 certification, the OTDR II Tier-2 troubleshooting tool ensures that the strong range of IDEAL Networks' testers and certifiers can address even the highest requirements of fiber cable testing."
About IDEAL Networks
IDEAL Networks offers easy to use data cable testers for cable installers and network testers to assist IT technicians with troubleshooting. The data cable tester range includes copper and fiber testers for cable verification, Ethernet transmission testing and cable certification that provide proof of performance. The unique network tester range helps to pinpoint and solve networking issues quickly. They decrease downtime by allowing field technicians to discover the root cause of network connectivity issues such as incorrect IP configuration, rogue network services, network bandwidth issues and PoE supply problems.
For more information about IDEAL Networks or other products, click here to go to Utility Products' Buyers Guide.