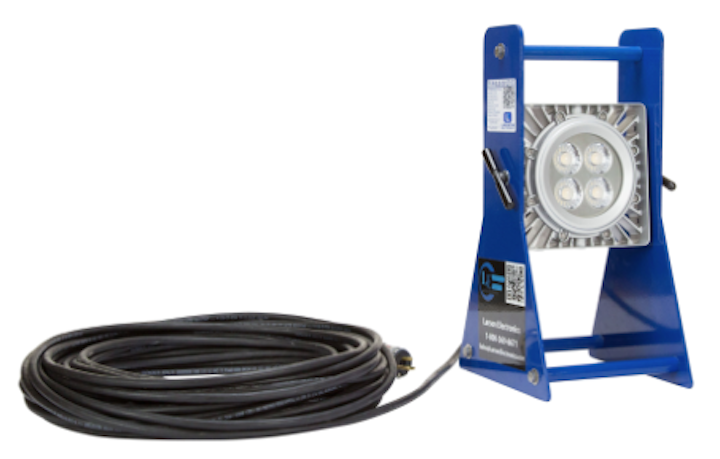 Work lights: Larson Electronics has announced a new pedestal mount LED work light that can illuminate up to 4,000 square feet of work space featuring a convenient pedestal mount base stand and 100 feet of chemical resistant SOOW cord.
The EPL-PM-50LED-100 explosion proof LED light is Class 1 Division 1 & 2 and Class 2 Division 1 & 2 rated. This portable LED light is mounted within an A-frame portable stand constructed from non-sparking aluminum and powder coated for increased durability and corrosion resistance. This LED work light produces a brilliant flood pattern of light that is ideal for illuminating enclosed areas and hazardous locations where flammable vapors, gases and dusts may be present.
This explosion proof LED work light is comprised of a seven inch wide square light head mounted within a pedestal base stand with a convenient carrying handle. The LED lamp assembly is constructed of four 12.5 watt light emitting diodes producing a total of 4,333 lumens of light. The cast aluminum body and LED lamp provides excellent durability and vibration resistance.
The lamp can be easily adjusted up or down 90 degrees and locked into position by simply loosening the two hand screws located on either side of the light head and tightening them once the desired angle is found. This explosion proof LED work light is equipped with 100 feet of 16/3 chemical and abrasion resistant cord that is fitted with an explosion proof cord cap for easy connection to explosion proof outlets.
"This explosion proof work light produces a powerful punch in a compact form, providing operators with an ideal solution for small work areas," said Rob Bresnahan, CEO of Larson Electronics. "While maintaining the light output of a metal halide, this LED light will not produce as much heat and also uses less power to operate."
Larson Electronics produces a wide range of intrinsically safe LED lights, explosion proof LED work lights, portable LED lights, explosion proof flashlights and LED trouble lights.
For more information about Larson Electronics or other products, click here to go to Utility Products' Buyers Guide.