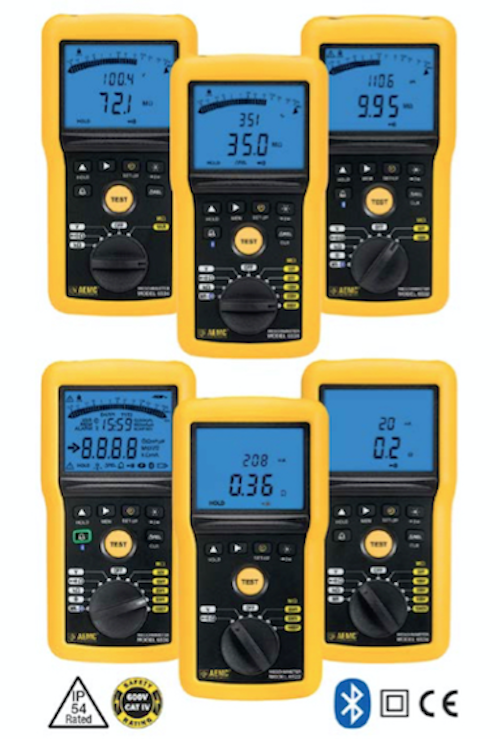 Voltage measurement: AEMC offers a line of easy-to-use handheld megohmmeters capable of measuring insulation resistance up to 200GΩ—Models 6522, 6524, 6526, 6532, 6534 and 6536. The selectable test voltages range from 10V to 1,000V, depending on the model. These compact, lightweight meters are for testing cables, small motors, pumps, transformers and industrial equipment.

The Model 6536 is useful for special applications in the aerospace and defense sectors where very specific test voltages are required.

Features:
• Selectable test voltages from 10 to 1000V (model dependent);
• Insulation resistance measurement up to 200GΩ (model dependent);
• Automatic discharge at the completion of the test;
• Manual, lock and timer test modes;
• PI/DAR ratio calculations (model dependent);
• Active voltmeter detects live voltage prior to starting a test;
• Automatic test inhibition if live voltage above 25 volts detected;
• Programmable alarms with pass/fail indication (model dependent);
• 200mA/20mA continuity measurement with fuseless active protection;
• Measures V (AC and DC), Hz, Ω, kΩ, capacitance and cable length (model dependent);
• ∆Rel mode for comparative measurements displayed as a value or percent;
• Test lead compensation eliminates lead resistance from continuity measurements;
• Data storage of test results (model dependent); and
• Computer report generation of test results (model dependent).
For more information about AEMC or other products, click here to go to Utility Products' Buyers Guide.