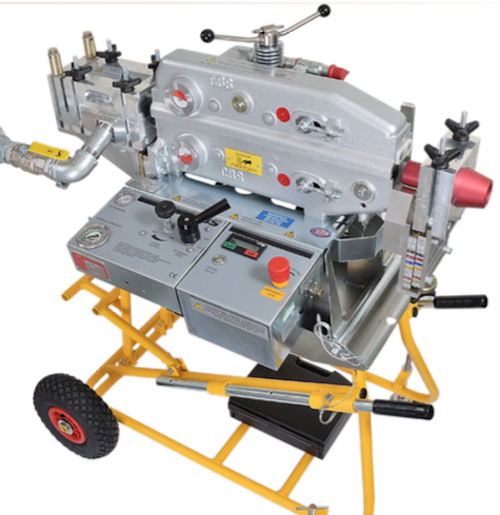 Construction equipment: General Machine Products is a manufacturer of a wide range of products for the telecommunications, power utility and cable television industries, and the contractors who serve them.
The company's total capabilities include the development, prototyping and manufacturing of Aerial Cable Construction Equipment & Tools, Copper & Fiber Cable Placing Equipment, Manhole & Duct Tools, Installer's Hand Tools, Warning Signs, Tents and Tarps, Winches, Motor Vehicle Accessories, Specialty Hardware and Supplies.
TORNADO CABLE BLOWING MACHINE
Designed to be safe, fast and effective, the Tornado Cable Blowing Machine installs ber optic cable into pre-installed innerduct or direct buried innerduct. A conversion kit allows the Tornado to place either 12/10mm or 10/8mm micro ducts into innerduct as well.
Comprised of an aluminum air box and cable pusher, the Tornado uses compressed air to install the cable with or without a missile. In operation, the hydraulically powered, belt drive system controls the ber optic cable as it is propelled by compressed air through the innerduct. An electronic monitoring system provides read-outs of speed and distance, helps protect cable against damage, and includes an emergency stop button.
The air box and cable pusher are mounted on a lightweight, tubular-steelvframe that can be tilted at a 30-degree angle to the manhole, which signicantly minimizes any bending of the innerduct and cable. The frame has retractable handles to permit ease of maneuverability, and adjustable rear legs that provide added stability on uneven terrain. This unit comes complete with a gasoline engine powered hydraulic power pack.
For more information about General Machine Products or other products, click here to go to Utility Products' Buyers Guide.