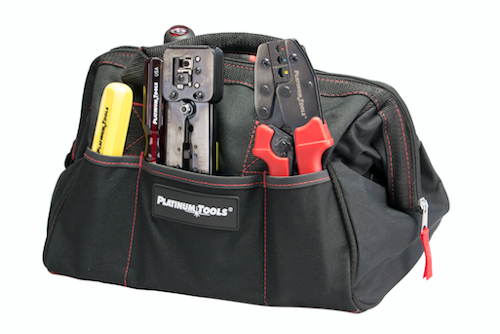 Tool holder: Platinum Tools, a provider of solutions for the preparation, installation, hand termination and testing of wire and cable, announces the new Big Mouth Tool Bag (P/N 4006) during ISC West 2016, held in Las Vegas, Nev. from April 6-8 at the Sands Expo and Convention Center, booth #5036.
"The durable Big Mouth Tool Bag is perfect for carrying your tools to the job site," said John Phillips, Platinum Tools, Inc. product manager. "The heavy duty construction means this bag will last for years to come!"
Big Mouth includes six spacious interior and exterior pockets for storage, is made with water-resistant canvas construction with nylon stitching for durability, and collapses flat for storage when not in use.
About Platinum Tools
Platinum Tools, founded in 1997, was created based upon two very simple objectives. First, develop the absolute best possible solutions for the preparation, installation, and hand termination of wire and cable. Second, implement an operational infrastructure that can deliver these products in an efficient, timely, and high quality manner.
All of our products must absolutely satisfy three critical benchmark criteria…utility of function; quality of function; and economic value. Our people are our company. They, too, must be focused on and work to satisfy three critical benchmark criteria…customer satisfaction; product knowledge and expertise; and willingness to learn and adapt.
For more information about Platinum Toolsor other products, click here to go to Utility Products' Suppliers Directory.