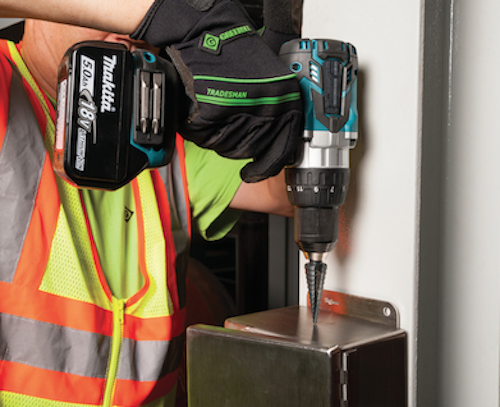 Utility supplies: Greenlee / A Textron Co. offers XT Cobalt Step Bits, designed specifically for drilling clean, smooth holes through stainless steel in commercial, industrial and residential applications.

XT Cobalt Step Bits are available in 1/2 in., 7/8 in. and 1-1/8 in. sizes and are engineered using high speed steel with a cobalt additive, which maximizes the bits' resistance to the heat and abrasion created by drilling. These bits also feature a new split point tip that eliminates walking and penetrates 10GA stainless steel in under 10 seconds.

Like all other Greenlee step bits, the new XT Cobalt Step Bits feature a dual-flute design and a steam oxide finish. The dual-flute design gives end-users two cutting edges that share the load and allows for faster cuts with less force, while the steam oxide finish penetrates the bit, enabling them to run cooler and last even longer. The XT Cobalt Step Bits can also cut through mild steel, copper, brass, aluminum, fiberglass, plastic, wood and laminates.

Made in the USA, the Greenlee XT Cobalt Step Bits continue to show Greenlee's commitment to tradesman and their demand for time-saving solutions.
For more information about Greenlee or other products, click here to go to Utility Products' Buyers Guide.