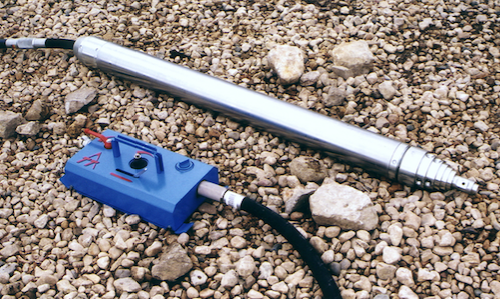 Utility equipment: TT Technologies' Grundomat piercing tool bores consistently on target time after time. It is constructed from durable hardened alloy steel and reliable machined components for maximum power and precision.
Grundomat tools are also equipped with an advanced reversing system, as well as, an in-line lubrication system. Basic and deluxe packages are available with the Grundomat. The tool serves as a complement and, in many situations, an economical alternative to larger, more expensive directional drilling equipment.
Especially suitable for economical last mile installation, the Grundomat's reciprocating stepped-cone chisel-head ensures high impact accuracy. The chisel-head action of the Grundomat tool is unique because it hammers away at solid obstacles. This two-stroke action means that the piston's impact is concentrated on the reciprocating tool head for optimum boring performance.
The Grundomat is available in 16 models ranging from 1 3/4" diameter to 7" in diameter, for horizontal boring distances from 50 feet to 150 feet. The Grundomat is easily configured to pull in a wide variety of new pipe materials. It is ideal for water, sewer, landscape and irrigation, gas, electrical and plumbing contractors.
* Within your provider's wireless service area and subject to your plan's pricing and other terms. Fluke Connect is not available in all countries. Some Fluke Connect features require a subscription subject to payment terms and may not be available in all countries.
For more information aboutTT Technologies or other products, click here to go to Utility Products' Buyers Guide.