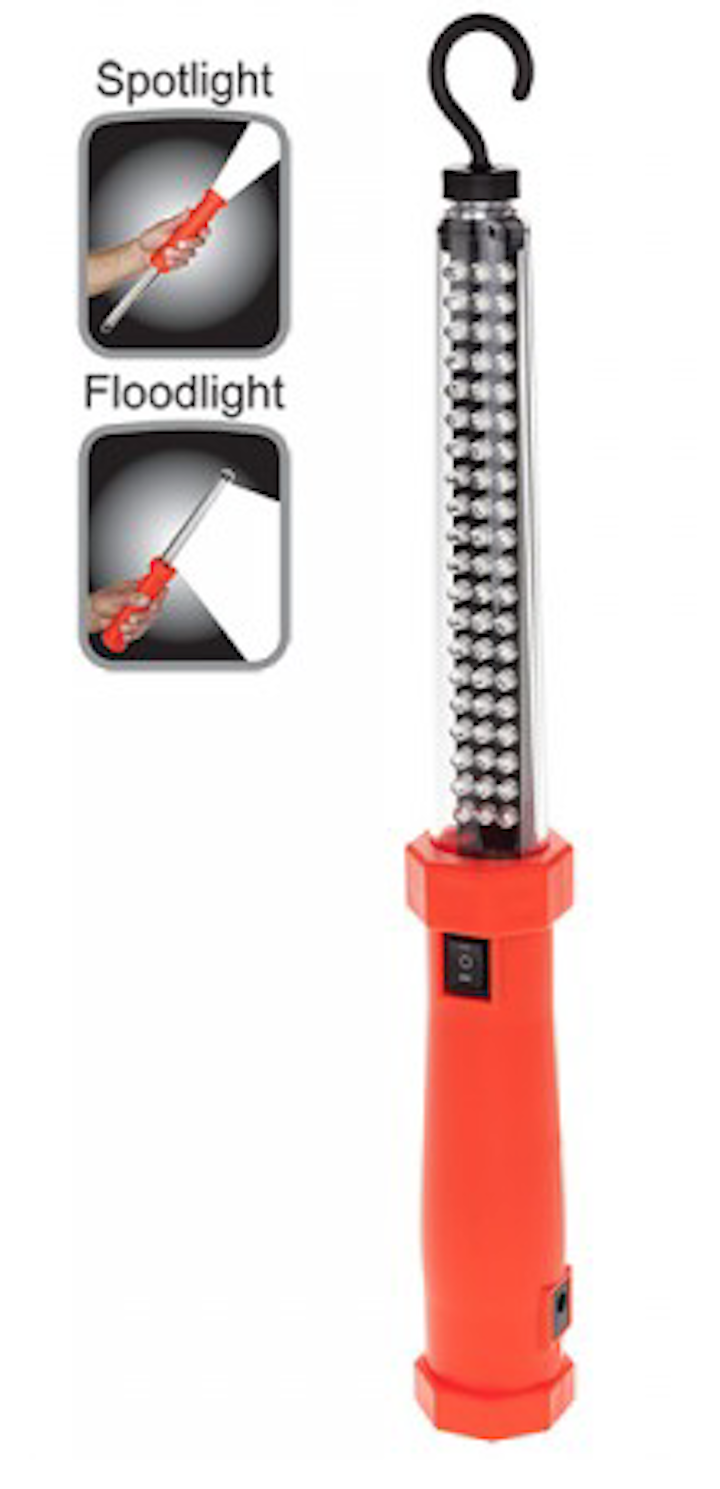 Work light: Nightstick's rechargeable all LED Work Light has both a spotlight and a floodlight built in. The spotlight, located in the base of the handle, is rated at 32 Lumens. It's perfect for putting a narrow beam of light into a specific area. The floodlight, rated at 230 Lumens, is designed for lighting up a large area.
The idea is simple, use the spotlight to find the problem, and the floodlight to light up the area when fixing the problem. The work light has two magnets built in...one at the balance point in the middle of the handle, and the other at the tip of the light. The flat-bottom design of the handle means the light will stand up on most flat surfaces, and the octagonal shape to the handle keeps the floodlight aimed in the correct direction when you lay the light on its side. Further adding to the work light's hands-free features is the detachable magnetic hook. It can be attached to either integrated body magnet and rotated 360 degrees. The integrated Nickel Metal Hydride battery can be recharged with the included AC or DC power supply/charger.
Features
• Light has 60 LEDs rated at 230 lumens arranged in a floodlight pattern and 6 LEDs in the base of the handle rated at 32 lumens serving as a spotlight
• Two built-in magnets, one at the tip of the light and the other at the mid-point of the body for hands-free use
• Magnetic hook can be attached to either of the built-in magnets and can be rotated 360 degrees for even more hands-free versatility
• Octagonal body design keeps the light in place when laid on its side
• Flat bottom design allows the light to stand up
• Water resistant
• Impact & chemical resistant
• Powered by integrated Nickel Metal Hydride (NiMH) battery
• Includes both AC & DC power supply/charger
• 1-Year Limited Warranty
For more information about Nightstick or other products, click here to go to Utility Products' Buyers Guide.