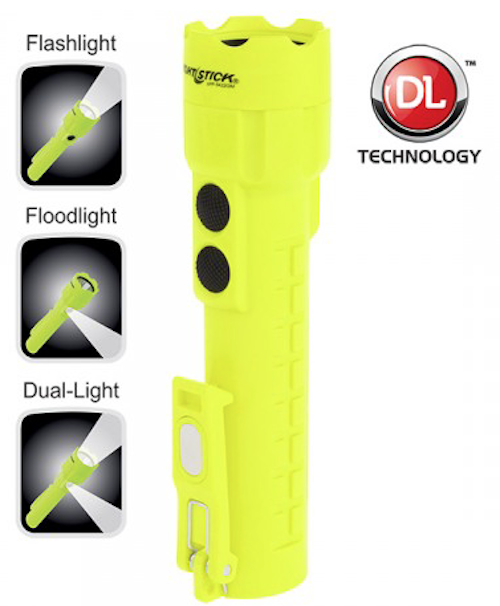 Work light: Nightstick's non-rechargeable XPP-5422GM Dual-Light™ Flashlight is cETLus, ATEX, IECEx, INMETRO and MSHA listed Intrinsically Safe Permissible. It uses a CREE® LED rated at 120 lumens that works in conjunction with a high-efficiency deep parabolic reflector to create a usable flashlight beam rated at 170 meters. A 120 lumens unfocused floodlight is integrated into the housing which is perfect for close-up illumination.
Additionally, both the flashlight and the floodlight can be turned on at the same time for maximum versatility. The dual body switches provide momentary or constant-on functionality for the flashlight and on/off functionality for the floodlight. Additionally, the integrated magnets located in the base of the handle and the pocket clip, provide for almost limitless hands-free usage. Power comes from 3 AA premium batteries (not included).
Features
• cETLus, ATEX, IECEx, INMETRO and MSHA listed Intrinsically Safe Permissible
• Flashlight – Floodlight – Dual-Light™
• CREE® LED technology – 50,000 + hours LED life
• Momentary or constant-on flashlight
• Sharp focused flashlight beam for distance illumination
• Unfocused wide-beam floodlight for close-up illumination
• Dual-light (flashlight & floodlight at same time) for maximum versatility
• Powerful integrated magnets built into the base and pocket clip for multiple hands-free options
• Engineered polymer housing
• Non-slip grip
• Dual body switches
• Waterproof
• Impact & chemical resistant
• Built-in pocket/belt clip
• Includes removable lanyard
• Requires 3 AA batteries
For more information about Nightstick or other products, click here to go to Utility Products' Buyers Guide.