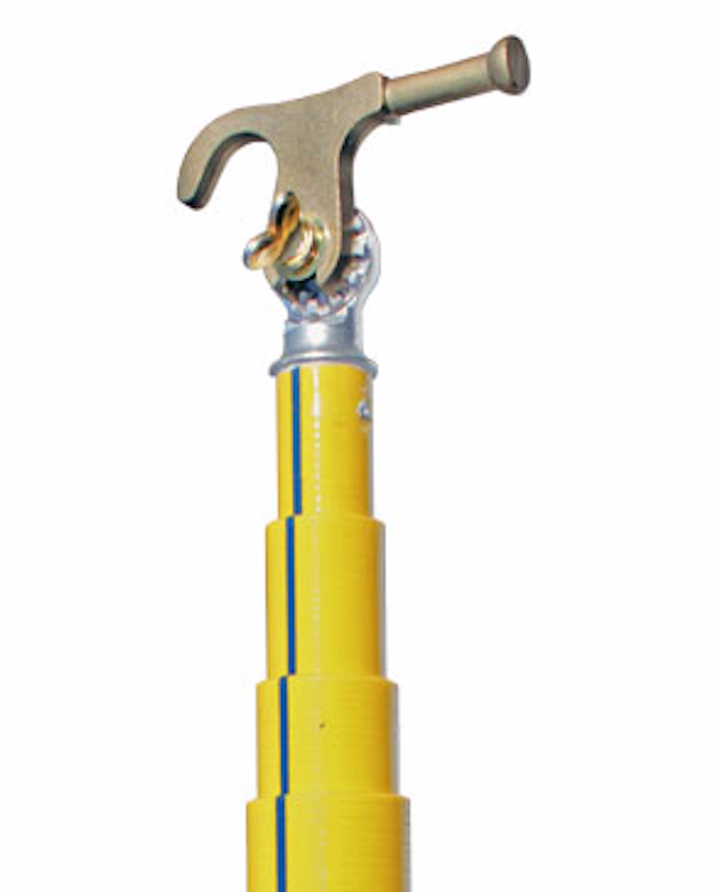 Safety equipment: Utility Solutions Inc. has introduced a BLUE STRIPE® Heavy Duty Telescopic Hot Stick that is reported to be stronger than the competition.
Hot line workers using load break tools or operating heavy switches will often exceed the design limitations (pushing, pulling, or twisting) of standard telescopic sticks. Utility Solutions, Inc. specifically designed their new Heavy Duty Telescopic Stick for such applications.
"We not only doubled the wall thickness of section #1", said Arturo Martinez, engineer for Utility Solutions, Inc. "we also modified our non-woven fiberglass process to handle more torque". The wall thickness is nearly double that of a standard foam filled section and the machined spline end assembly is pinned and glued for higher torque applications.
All BLUE STRIPE® Telescopic sticks use an epoxy resin and feature a unique non-woven fiberglass construction process which creates a smooth durable surface that resists water absorption. The patented BLUE STRIPE® feature takes the hassle out of lining up buttons.
The BLUE STRIPE® Heavy Duty Telescopic Stick meets all applicable industry standards, including OSHA Sub V Sec. 1926.951(d) and ASTM F1826.
Utility Solutions, Inc. has a history of responding to customer demands for products. This new heavy duty stick is no exception. The BLUE STRIPE® Heavy Duty Telescopic Stick is available in sizes from 16 ft. to 40 ft.
About Utility Solutions Inc.
Utility Solutions Inc. is a designer and manufacturer of hot line tools and products for the electrical power industry. Founded in 1990 by engineers with broad electrical distribution experience, Utility Solutions has accumulated an impressive list of innovative and patented products that directly relate to a lineman's job.
For more information about Utility Solutions Inc. or other products, click here to go to Utility Products' Buyers Guide.