Utility supplies: High capacity fiber distribution for data centers
Utility equipment: R&M introduces Anaconda, high capacity fiber distribution for data centers. New cabling solution accommodates current and future requirements in splicing, termination and high fiber counts.
May 27th, 2016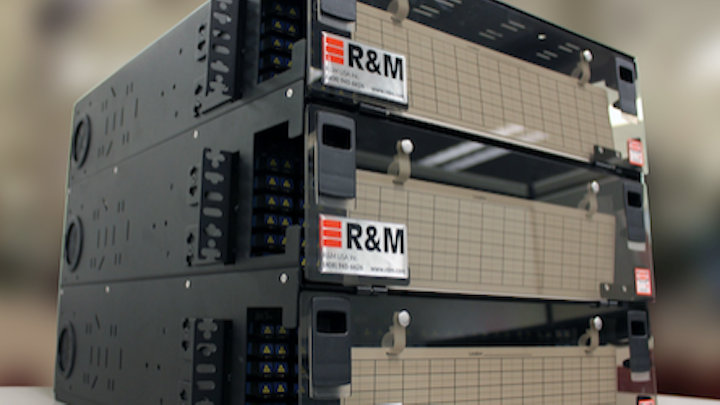 Utility equipment: R&M is introducing Anaconda, a high capacity fiber distribution system designed to meet the demands of modern data center environment. The system offers unparalleled flexibility to accommodate today's major termination techniques and high fiber count cables.
Rapid growth in the volume of data being stored and managed in data centers in recent years has lead to a need to realize maximum port density in the smallest available space. However, increasing density often results in unmanageable cabling. This makes Moves, Adds and Changes (MACs), cable tracking and fault-finding impossible. Anaconda has been designed with the challenges of a managing a future-proof data center in mind, targeting ease of use and flexibility in an increasingly high-density, complicated network environment.
Components are assembled in the US, preassembled, dressed and labeled for fast deployment and available in 19" and 23" rack mountable versions with large 2.5" (63 mm) cable entry and routing ports. Solutions are factory scalable to over 3,456 fiber ports, in 288 port 3RU increments. The heavy-duty chassis construction is forged from 0.090" aluminum or cold rolled steel, with a powder coat that offers maximum protection indoors and outdoors. The rack module offers internal slack storage for incoming cable and trunks.
Another benefit of the Anaconda and the universal cassette is that it can be removed while the panel is deployed. An external steel breakout box and cable clamp assist and protect cable entry into the panel. This is especially important when incoming cables have a large diameter and high fibre count. It allows the user to breakout the cable outside the panel rather than inside. Taking advantage of this unique feature, the user can work with much smaller cable diameters inside the panel. Loading is assisted by a unique removable cassette handling cradle. Medium density 3RU, 288 fiber designs allow for the use of standard LC-duplex patch cables. Termination options include MTP® cassettes, direct termination of field installable connectors, fusion splicing in a 0RU splice shelf in the rear of the cabinet and splicing inside of the splice cassette.
Anaconda's modularity makes it possible to very rapidly create assemblies for any type of configuration requirement. In most cases, the termination cassette is configured as a pigtail and routed to the splice tray shelf in the rear of the panel, saving valuable rack space. Having the splice tray shelf in the rear of the panel allows fusion splicing in an 864 fiber shelf to be in approximately four hours. End users can define the location of the splice tray shelf (top, bottom, or middle) - especially practical when you need to splice 1,728 or 3,456 fibers. Splice tray shelves can be located close together, allowing easy routing of the incoming cable's fiber bundles into the shelf stack. The remaining rear shelves of the other units remain mostly empty can house the slack of the incoming cable.
R&M has specifically designed its new solution keeping these challenges in mind. "Anaconda was developed on the basis of close analysis of customer needs in relation to today's growing fiber counts and flexibility requirements," concludes Thomas Wellinger, Market Manager Data Center at R&M. "By eliminating the time needed to splice at one location, Anaconda can help complete projects rapidly and at a lower total cost.

About R&M
R&M (Reichle & De-Massari AG) is a leading global producer of future-proof products and systems for communication and data networks. The company's close collaboration with certified partners results in pioneering connectivity solutions in the sectors LAN, Public and Telecom Networks as well as Data Centers. The Swiss family company stands for innovation, quality, and customer proximity.
For more information about R&M or other products, click here to go to Utility Products' Buyers Guide.