Work lights: Floodlight line expanded
Safety lighting: EYE Lighting extends Blitz LED floodlight line, adds 200W model. High powered 200W and 400W Blitz LED floodlights deliver light at 50 percent of typical wattage.
May 12th, 2016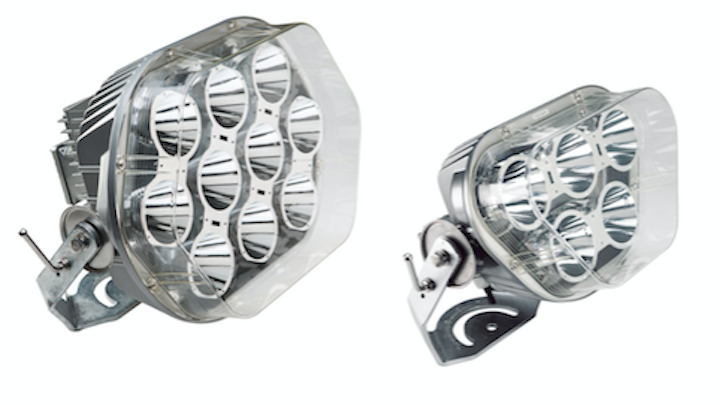 Work lights: EYE Lighting's new 200W and the existing 400W model Blitz high powered LED floodlights feature highly efficient COB LED packages combined with precise optics to deliver a bright, white light to applications typically requiring twice the wattage. The precise optics provide for a more efficient lighting design and require fewer lumens than other sources.
The Blitz LED Floodlights are available in 4000K or 5000K with a minimum 80 CRI rating. They operate efficiently in ambient conditions from minus 30 degrees Celsius to plus 40 degrees Celsius. The 200W Blitz LED Floodlight delivers 16,000 to 18,000 lumens, and the 400W delivers 29,000 to 35,000 lumens through efficient narrow, medium and wide beam optics. It is available for input voltages ranging from 120 to 277V.
About EYE Lighting International
EYE Lighting International is a leading provider of lighting products with more than 24 years of innovation in lighting technology. EYE Lighting manufactures technically superior products featuring solid-state LED luminaires and High Intensity Discharge (HID) lamps. EYE Lighting's products provide superior quality, reliability, excellent color rendering, and great yield. Every day satisfied customers use EYE-brand products to conserve energy use, reduce maintenance, and meet their sustainability goals.
For more information about EYE Lighting or other products, click here to go to Utility Products' Buyers Guide.