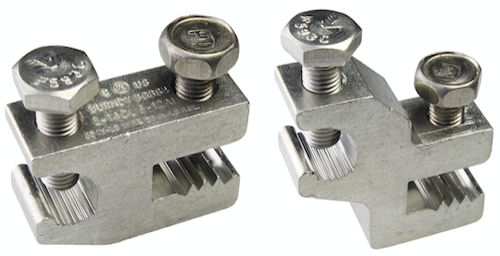 Solar generation: BURNDY®, a leading manufacturer and provider of connector, grounding and tooling solutions to multiple markets, announces new additions to their grounding product line. The new aluminum lay-in lugs are most suitable for solar panel applications. The connectors are for use with frames with a maximum thickness of 1/4 inch. They may also be used for cable to bus or cable to steel connections where the lay-in feature is necessary. Manufactured using high strength aluminum alloy, these connectors have the versatility to be used with aluminum and copper conductors. The serrations are provided to establish better contact and cut through oxidation, ensuring low contact resistance and high conductivity. The anodization on aluminum rails is nonconductive and electrical current cannot pass through this layer. BURNDY's cup point screw penetrates this layer, allowing current to flow into the aluminum connector and consequently current flows to the conductor.
The connectors are UL467 and UL2703 Listed. The connectors accommodate copper cables from 14 AWG to 6 AWG and Aluminum cables from 12 AWG to 6 AWG. The connectors are also available in bulk.
About BURNDY
Headquartered in Manchester, New Hampshire BURNDY has over 90 years of dedicated customer support in both service and product. Our customers need to look no further than BURNDY for all their connector, tool, and accessory needs with our BURNDY Engineered Systems of coordinating dies, connectors and tools. The three elements have been specifically designed to work together and engineered to meet stringent, accepted quality standards – providing the user complete confidence in the integrity of the connection.
Contact us at 47 E. Industrial Park Drive, Manchester, New Hampshire, 03109, call Customer Service at 1-800-346-4175, or visit our website at www.BURNDY.com
Since 2009, BURNDY LLC has been a key brand under the Electrical Systems Platform of Hubbell Incorporated. More information can be found at www.Hubbell.com
For more information about BURNDY or other products, click here to go to Utility Products' Buyers Guide.