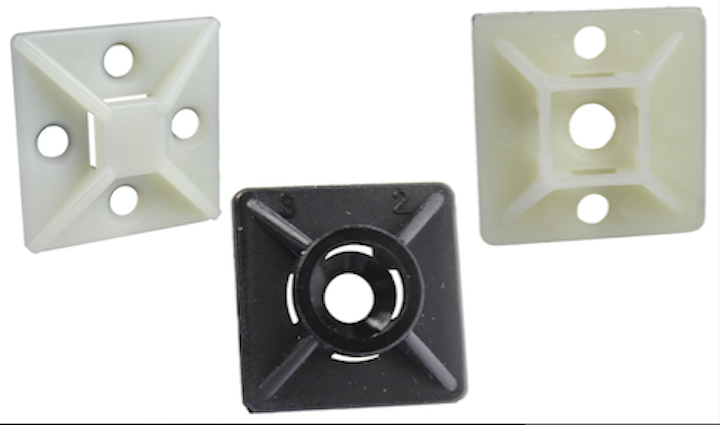 Utility supplies: BURNDY, a manufacturer and provider of connector solutions to the industrial, energy, construction, telecommunication, petrochemical, data center and transportation industries, has expanded its nylon mounting bases. Mounting bases are an effective, versatile and durable wire management mounting product for routing and securing wires and cables in place.

These mounting bases are easy to install and are available in a variety of styles to attach to the mounting surface. The mounting bases are square with rubber or acrylic adhesive, and/or one, two or four screw holes for mounting, depending on the design. Acrylic adhesive is recommended for applications requiring more adhesive strength and in high temperature environments. In addition, acrylic adhesive bases are more durable and suitable for mounting on plastics and metals, producing a secure bond between oily and/or contaminated surfaces. All the mounting bases are available in Natural or UV Black color.

Mounting bases are used in conjunction with cable ties to stabilize and secure wire bundles. The bases not only improve aesthetics, but are suitable for both indoor and outdoor applications. Mounting bases provide a quick, economical, and dependable solution for supporting, routing, and protecting wires or cables.
For more information about BURNDY or other products, click here to go to Utility Products' Buyers Guide.