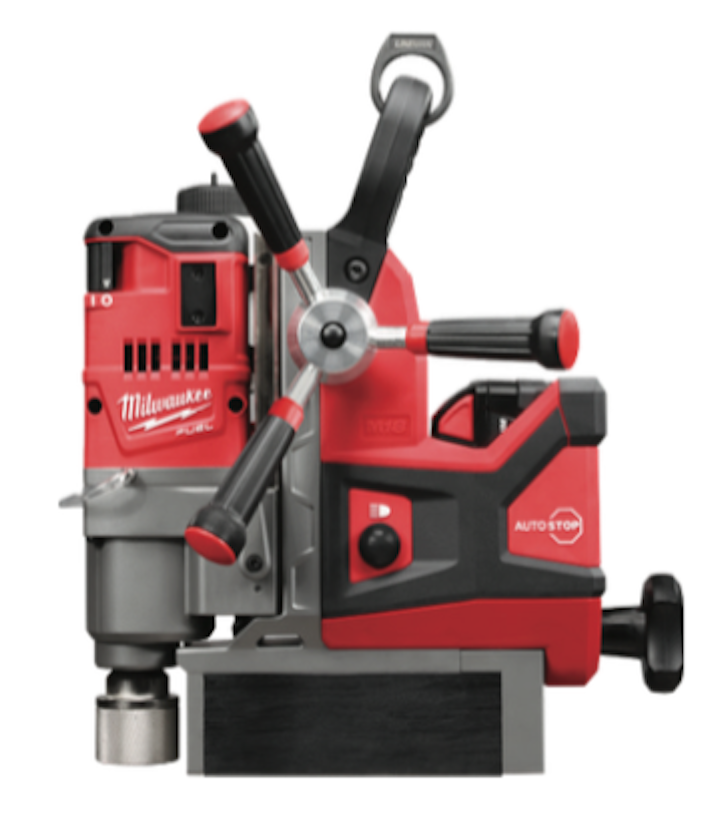 Utility tools: Hi-Line Utility Supply shares with you the new Milwaukee M18 Magnetic Drill Kit. Using the M18 Fuel technology, it delivers more power and better performance of a conventional mag drill and eliminates the hassle of tripping over cords. Its compact, ergonomic design is great for vertical and overhead drilling 1⁄4" steel poles. This drill is equipped with a 3⁄4" Weldon to 1⁄2" chuck adapter, and the ability to adjust the height of the motor head, tool-free. This provides the user the ability to switch from annular cutters to twist bits, faster and easier. Maximizing your productivity has never been safer!
The new M18 Mag Drill features a patent magnetic base, providing the strongest magnetic hold on steel material. This tool utilizes permanent magnets so that the magnetic base operates without electricity; ensuring that the magnet does not deactivate if the battery is drained. Equipped with Auto-Stop Lift-off detection, power to the motor is automatically cut if excess rotational motion is detected while drilling.
Kits includes (2) M18TM RED LITHIUMTM XC 5.0 Batteries, AC/DC Charger, Magnetic Lubrication Tank, 1⁄2" Chuck Adapter, Chuck Key, (2) Retractable Pilot Pines, Safety Strap & Carrying case.
For more information about Hi-Line Utility Supply or other products, click here to go to Utility Products' Buyers Guide.