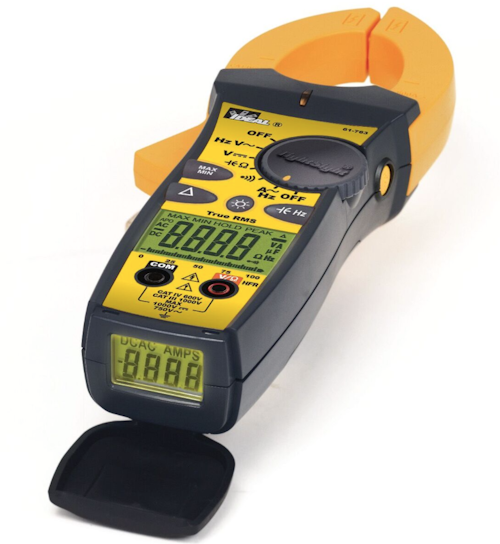 Power measurement: Technology moves fast... IDEAL Electrical is helping electricians move faster with its Cash for Clamps sales promotion running from now until April 30, 2016.
Cash for Clamps rewards buyers of new IDEAL TightSight Clamp Meters with valuable rebates when they send in their old clamp meter. For the purchase of a TightSight 660A model the electrician will receive a $50 (U.S.) rebate, or $75 if they buy the 1000A clamp model. Rebate forms are available at IDEAL distributors or online at www.clamp-meter.com.
Only the IDEAL TightSight clamp meter has the exclusive TightSight bottom display for safe reading from virtually any angle, an advantage when accessing cables deep within a distribution panel or when measuring overhead. With TightSight, there is no more need to twist the meter or risk pulling on an energized conductor. The easy to read backlit displays feature large numbers and icons so the electrician always sees the correct reading. The clamp meter alsoincorporates an on-screen low battery indicator that warns the user an hour before power is shut off to avoid inaccurate readings.
Tough as it is smart, the TightSight features a hardened meter case and rugged dial construction that withstands heavy-duty commercial and industrial work. HFR makes the meter immune to electrically noisy areas when measuring AC current, DC current, AC/DC voltage, frequency, resistance or capacitance.
The IDEAL TightSight clamp meter is available in four professional quality models: 660A with or without DC current measurement, and 1000A with or without DC current measurement. Each is ergonomically engineered to feel comfortable, even when the user is wearing heavy gloves.
For more information about IDEAL Electrical or other products, click here to go to Utility Products' Buyers Guide.