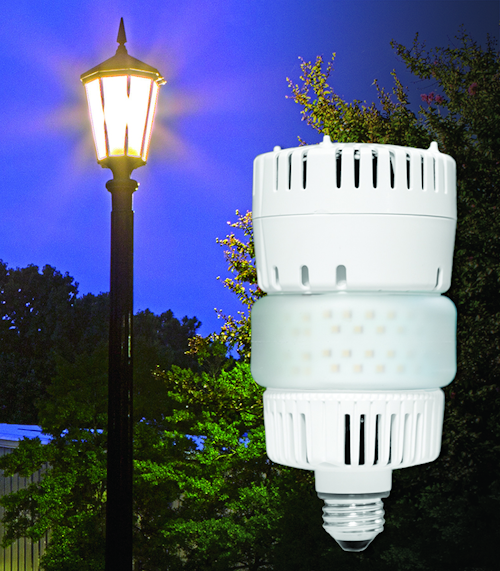 Work lights: Breaking with the 'corn cob' industry form for decorative lighting retrofits, LED Lighting Manufacturer Evluma is poised to release the OmniMax, an omnidirectional LED retrofit that realistically emulates the size and light center of legacy HID bulbs, effectively capturing OEM refractive optics. The OmniMax will be offered in 40w or 70w, E26 or E39 configurations and several color temperatures ranging from 2K (amber) to 5K (bright white) to match historic or contemporary lighting specifications. Ideal for streetscapes, plazas, waterfronts, pathways or parks, the OmniMax has an anticipated Q2 2016 release date.
Compact, custom electronics matched with a novel, high-power light engine make the self-ballasted OmniMax similar in size to an HID bulb and dramatically smaller than 'corn cobs' of comparable wattage. "Many 'corn cob' products won't fit into decorative luminaires without modification," said Don Vendetti, VP of Engineering at Evluma. The evluma-designed light engine is comprised of 96 LEDs mounted in a radial arrangement on a flexible substrate adhered to a centralized, circular heatsink.
A revolutionary, molded-silicone, matte-finish lens wraps around the OmniMax light engine to create a pleasing, diffuse source inside decorative fixtures. "The radial center design with diffuse optics eliminates the long vertical dots often seen when viewing 'corn cob' retrofits and more closely resembles the original HID bulb," said Mr Vendetti, "but that's where the similarity to HID ends." The OmniMax includes AreaMax-proven, propriety driver technology, 20kV/10kA surge protection and Evluma's signature Photocontrol FailsafeTM. Evluma's flagship luminaire, the AreaMax, with over 100,000 units shipped, has rapidly become The Utility Standard in LED outdoor street and area lighting. Like the AreaMax, the OmniMax works with ConnectLEDTM, a Bluetooth application that allows the owner to control, dim and query the OmniMax remotely, reducing the need to retrofit older fixtures to work with enterprise lighting control systems.
Dimmable decorative LED lighting retrofits like the OmniMax, present new opportunities for energy savings based on periods of low area occupancy and use. Holiday dimming schedules can coordinate with temporary lighting installations to enhance ambient conditions and save energy.
About Evluma
Formed in 2008, Evluma is committed to developing affordable, long-lasting and environmentally low-impact LED lighting solutions that fundamentally change the landscape of the outdoor utility lighting market. Evluma's high standard of customer service and background in innovative lighting technologies, automation and software design creatively ideate and inform it's Made in Washington products.
For more information about Evluma or other products, click here to go to Utility Products' Buyers Guide.